Get Quality Pest Control with Same-Day Services
What kind of problem are you having? Select all that apply.
Pest Control in Nampa
Have pests been making your home a source of frustration or your yard unusable? If so, turn to the experts at Affinity to kick household and yard critters out and keep them gone for good. Better yet, you can save $100 while you're at it!
Why waste time with expensive, unreliable DIY pest control methods? When you're fighting an infestation in your home, go straight to the local pros who can get the job done for you today. At Affinity, our team of friendly, skilled exterminators wants to give you back a pest-free home. Our treatments use only the most innovative and family-friendly treatments to get rid of critters in your home with minimal disruption to your life. 
Our pest control in Nampa, ID includes:
Comprehensive home inspections from certified experts.
A plan tailored to your unique needs.
Protection from ants, earwigs, spiders, stinging insects, roaches, and more!
Available Saturday appointments.
Same-day service when you call before noon.
And more!
Image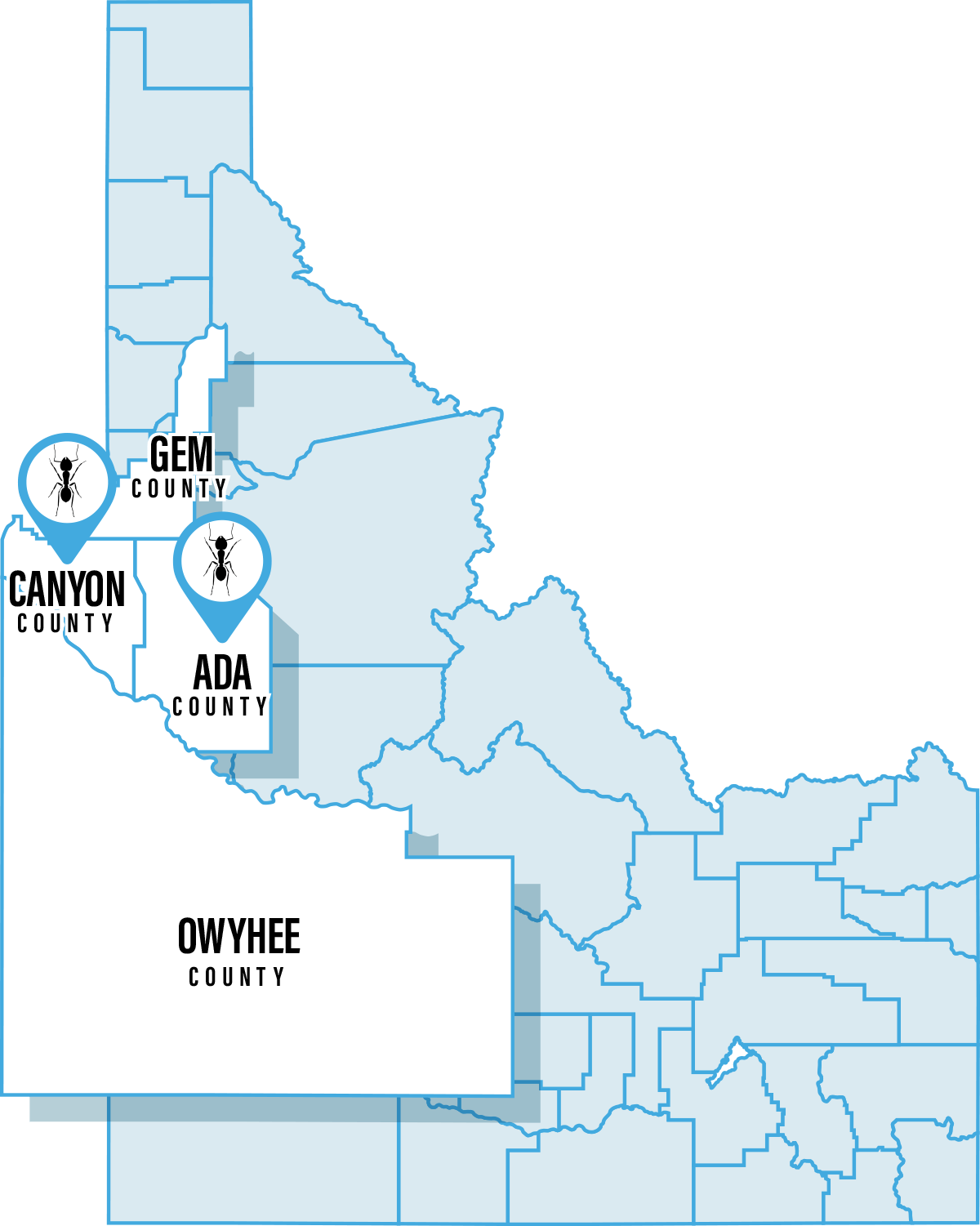 Comprehensive Coverage for Lasting Relief
The best way to keep your home pest-free all year is to apply recurring treatments. That's where our recurring treatment plans can help, as it means your home is always protected and that our service is at your fingertips every day. No matter your budget, we've got a plan that will work for you. 
Our exterminators in Nampa will keep you safe from critters such as:
Ants
Earwigs
Spiders
Roaches
Wasps
Mosquitoes
Ticks
And more!
Bed Bug Control in Nampa
Usually sneaking in on clothes and luggage, bed bugs can affect even the cleanest of homes and, once they're established, they're devilishly difficult to get rid of. Quick-fix treatments that leave behind stragglers or unhatched eggs guarantee that an infestation will come roaring back. That's why at Affinity, our bed bug control in Nampa takes the slow and steady route to make sure that they stay gone. 
Our effective treatments include:
A thorough, free bed bug inspection by one of our experienced exterminators to assess the severity of the infestation.
Elimination of all of the insects and their eggs throughout your home, with our 3 month guarantee. 
Available same-day service when you call before noon.
Saturday appointments for your convenience.
And more!
Signs of a Bed Bug Infestation
When it comes to treating bed bugs, time is everything. Even a small infestation can get totally out of control if given time. A single bug can lay up to 250 eggs, which hatch in only 6 days! This means time isn't on your side, so let us know right away if you notice any of the following:
Small, itchy, red bites.
Rust-colored stains on sheets and bedding.
A musty odor in your room, reminiscent of a wet towel.
Discarded eggshells and skins.
Live bed bugs.
Mosquito Control in Nampa
One of the most frustrating parts of having a yard is wanting to enjoy it but being unable to do so because of pesky bugs. Our mosquito exterminators in Nampa will give you back control of our outdoor spaces by keeping the insect populations at safe levels.
Our mosquito control includes:
A thorough inspection of your yard to determine hiding spots and breeding places.
A personalized plan customized to the needs of your home.
Protection from mosquito-borne illnesses like Malaria, Zika, and West Nile Virus.
Flexible scheduling with Saturday appointments and same-day service. 
Follow-up inspections to make sure the insect doesn't come back.
And more!
To ensure your family's protection, our recurring service plan also includes tick control—without any extra upcharges!
Rodent Control in Nampa
Dealing with rodents on your own is frustrating at best and dangerous at worst. They're smart, always hungry, and have sharp teeth and claws, capable of inflicting painful injuries. Worse still, they're known to spread disease and even cause electrical fires! 
So when you find that mice and rats have gotten indoors, you need a professional touch to make things right. At Affinity, our rodent control in Nampa is here to provide you with immediate relief and long-term protection. Don't go it alone and pick the best exterminators to give you back a rodent-free home. 
When you hire us, you can expect:
A thorough home inspection from a local rodent exterminator to identify entry points and hiding places.
Strategic application of traps in high-traffic and vulnerable areas.
Open and honest communication throughout every step of the process.
Protection from rodent-borne diseases like Typhus, Hantavirus, and Plague. 
Re-treatments as needed.
Your complete satisfaction guaranteed. 
And more! 
Ant Control in Nampa
One or two ants in your home may not seem like a big deal, but they can quickly multiply until you're housing an entire colony—which is hundreds of thousands of ants. DIY treatments may say they offer fast-acting relief, but they don't get to the root of the problem, allowing ants to continue to thrive. Rather than struggle with ineffective at-home methods, trust our ant control in Nampa. With over 20 years of experience, we know how to get rid of ants for good. 
Our ant exterminators in Nampa will:
Identify where ants are hiding and how they're getting inside your home.
Determine what species of ant is present, whether it's sugar ants, pavement ants, or carpenter ants.
Create a customized ant removal plan that works with your home's unique needs.
Keep you informed throughout the treatment process, so you always know what's happening.
Termite Control in Nampa
Termites can be intimidating, but there's no need to fret when you have expert help available. These destructive critters have the potential to cause some costly damage to your home, but we won't let that happen. The termite removal experts at Affinity Pest Control have years of experience keeping these pests at bay, and they'll stop at nothing to get you results. An Affinity termite exterminator takes on the job with two main goals in mind – to restore the peace in your home and keep your family safe.
Partner with us for termite treatment, and you'll receive:
A comprehensive termite inspection, to determine the severity of the damage.
Preventative or combative treatments.
Safe and effective treatment methods.
Top-of-the-line technology.
100% satisfaction, guaranteed!
The Affinity Guarantee
At Affinity, we don't just want you to be satisfied, we want to exceed your expectations. You can rest assured knowing that if your pest issues return, we're more than happy to provide you with a complimentary re-service. Not only are we thrilled to make it right, but we offer scheduling options that are convenient for you so that you can get termite control when you need it. Only free during the weekends? No worries, because we have Saturday appointments available. Trust the most reliable and accommodating termite removal exterminators in Nampa, and we'll get rid of termites for good.
Locally and Veteran Owned
Affinity is a community-focused, veteran-owned pest control company with deep ties across Idaho. We're passionate about serving our local community and our dedication to customer service and our relentless approach to keeping your home safe sets us apart. When you choose our pest control services, we guarantee that you'll notice the difference.