Same-Day Pest Control in Eagle
What kind of problem are you having? Select all that apply.
Pest Control in Eagle
When pests invade your home or take over your yard, there's no need to despair. Instead, choose Affinity Pest Control for affordable, reliable protection from household pests.
Settling for anything but the best pest control in Eagle doesn't fix the problem—it just prolongs it. So, when dealing with an infestation, go straight to the best with Affinity Pest Control. Our focus isn't just on getting rid of pests in your home—it's also on keeping them away for good. We believe that quality pest control doesn't stop when our exterminators leave, but is an ongoing process. So, when you choose Affinity, you're not just choosing a service—you're choosing a partner.
When you partner with us for pest control services, you can expect:
A top-to-bottom home inspection to determine your needs.
Customized plans that work around you. 
Recurring packages starting at just $39/month. 
Follow-up service and inspections to ensure bugs stay away. 
Pest prevention education from a friendly professional.
Available same-day service when you call before noon and Saturday appointments. 
And much more!
Image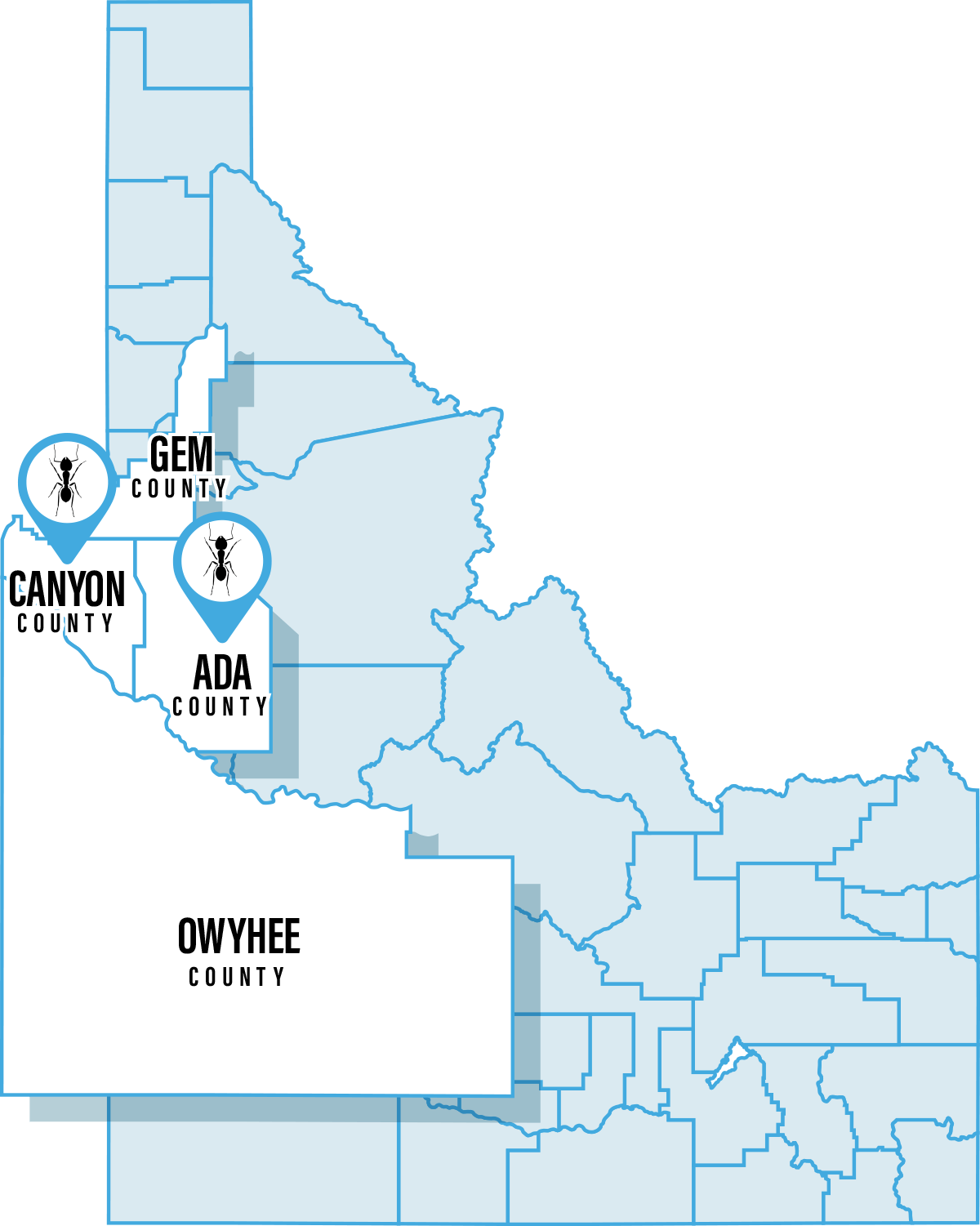 Same-Day Services and Saturday Pest Control
We understand how stressful a pest infestation can be, and the potential dangers they pose. Pests not only make you uncomfortable, but they can cause structural damage to your home and introduce dangerous diseases to your family.  If you call before noon, an exterminator will arrive at your property to conduct an inspection before the end of the day. 
Protection from All Common Pests
Our team has a solution for just about any bug that's likely to show up in your home. No two households require the same approach, so we've developed specialized treatments to make sure that, no matter the pest, we can take care of it quickly.
Our local exterminators in Eagle protect you from:
Roaches 
Ants
Mosquitos
Ticks
Rodents
Spiders
And more!
Bed Bug Treatment in Eagle
Few pests are as miserable to deal with as bed bugs. Other creepy crawlies may figuratively keep you up at night but bed bugs can stop you from sleeping. Their red & itchy bites, unpleasant odor, eggshell casings, and rust-colored stains on your sheets cause a feeling of unease. If you notice these signs, call for professional bed bug treatment as soon as you can so that the infestation doesn't continue to grow. We promise the complete elimination of all bed bugs in your home and multiple exhaustive treatments. 
Our bed bug control in Eagle includes:
A free bed bug inspection to determine the severity of your infestation.
Comprehensive bed bug treatments that guarantee total elimination for 3 months. 
Available Saturday appointments and same-day service when you call before noon.
Family-friendly bed bug control products.
And more!
Mosquito Control in Eagle
Everyone knows how annoying mosquitoes can be. What everyone doesn't know, however, is how dangerous they can be. They are known to carry more than 10 different diseases, most of which can be very dangerous to humans. This includes sicknesses like West Nile Virus, Zika, and Malaria. Quality mosquito control in Eagle isn't just a way to make your yard more comfortable—it's a proactive way to keep your community safe. 
When you choose our mosquito control in Eagle, you can expect:
A thorough inspection of your yard to determine hiding spots and breeding areas.
A customized plan based on your needs.
Flexible scheduling with Saturday appointments.
Available same-day service when you call before noon. 
Follow-up inspections to make sure mosquito populations don't return.
Tick control is included when you choose a recurring service plan. 
And more!
Rodent Control in Eagle
The sound of mice and rats scurrying across the kitchen floor or scratching behind walls is enough to make any homeowner uncomfortable. Instead of turning to frustrating and ineffective DIY treatments or surrendering your home altogether, let us make things right. At Affinity Pest Control, our rodent control will get rid of rats and mice in a hurry, giving you the clean and safe home you deserve. Our exterminators are ready to get to work today, so don't let rodents run your home for another moment! 
Prevent Rodent-Borne Diseases 
Keeping mice and rats out of your home isn't just about keeping things clean. It's also a matter of safety! Here in Idaho, our local rodent populations are known to carry dangerous diseases like Hantavirus, Typhus, Salmonella, and even Bubonic Plague! Preventing rodent infestations is a critical part of maintaining your loved ones' health and well-being. Don't trust anyone but the best local rodent exterminators to do the job right because the cost of choosing anything less is simply too high.
Ant Control in Eagle
You might be accidentally inviting ants into your home without even realizing it! These pests are constantly foraging, making it easy for them to find crumbs on the counter, dirty dishes in the sink, or leaky faucets. Once ants are inside, their large numbers make it nearly impossible to eliminate them on your own. That's where our ant control in Eagle comes in! We use proven techniques to quickly eliminate ants, making them a thing of the past.
When you choose our ant control in Eagle, we will:
Complete a comprehensive inspection to determine where ants are hiding and how they're getting inside.
Create a custom treatment plan based on our findings and your home's needs.
Use safe, effective treatment methods to eliminate ants.
Schedule follow-up appointments to ensure the ants are gone for good.
Termite Control in Eagle
Every year, termites invade 600,000 homes in the United States, costing homeowners over $5 billion in damages each year. Subterranean termites, the most prevalent type in Idaho, are known to cause the most damage by eating at your wood 24 hours a day, 7 days a week. Unfortunately, these wood-destroying insects can cause most of their damage before you even know they are there. 
That's why Affinity Pest Control offers professional, expert termite treatment to help prevent and remove these bugs. Our fast, same-day service is there for you when you need it most. When you partner with Affinity Pest Control to get rid of termites, you will receive:
Free quotes and comprehensive termite inspection, including all breeding grounds and entryways. 
Personalized treatment programs customized for your home and family's needs.
Trained technicians who follow the latest state regulations and guidelines for safety.
Complete elimination of termites backed by our guarantee. 
When your home's structural foundation and safety are at stake, there is no time to waste. Receive your free same-day service and put termites in their place.  
Veteran-Owned and Operated for 20+ Years
Affinity Pest Control is a proudly veteran-owned and operated pest control company that takes special pride in serving the people of Idaho. We've provided high-quality protection from a variety of household and yard pests for more than 20 years and are ready to do the same for you today. Whenever you need help ridding your home of pests, count on Affinity to kick them out and to keep them going.