Fast Relief With Same-Day Services
What kind of problem are you having? Select all that apply.
Pest Control in Meridian, ID
Have household pests turned your home into a headache? Let local experts at Affinity show them out and make sure that they stay gone for good. We are proud to offer affordable pest control in Meridian.
At Affinity, our philosophy is simple: you should be able to count on your pest control company. We're a community-focused business that's proud to be owned and operated by veterans. When you choose to work with us, we're sure that our friendly, solution-oriented service and dedication to quality will set us apart.
When you choose the team at Affinity for pest treatments, you can expect:
Detailed and thorough home inspections to assess your needs.
Personalized plans that fit your budget and address the needs of your home.
Follow-up inspections to ensure bugs never come back. 
Prevention tips and tricks from local exterminators.
Flexible scheduling options for your convenience. 
And more!
Image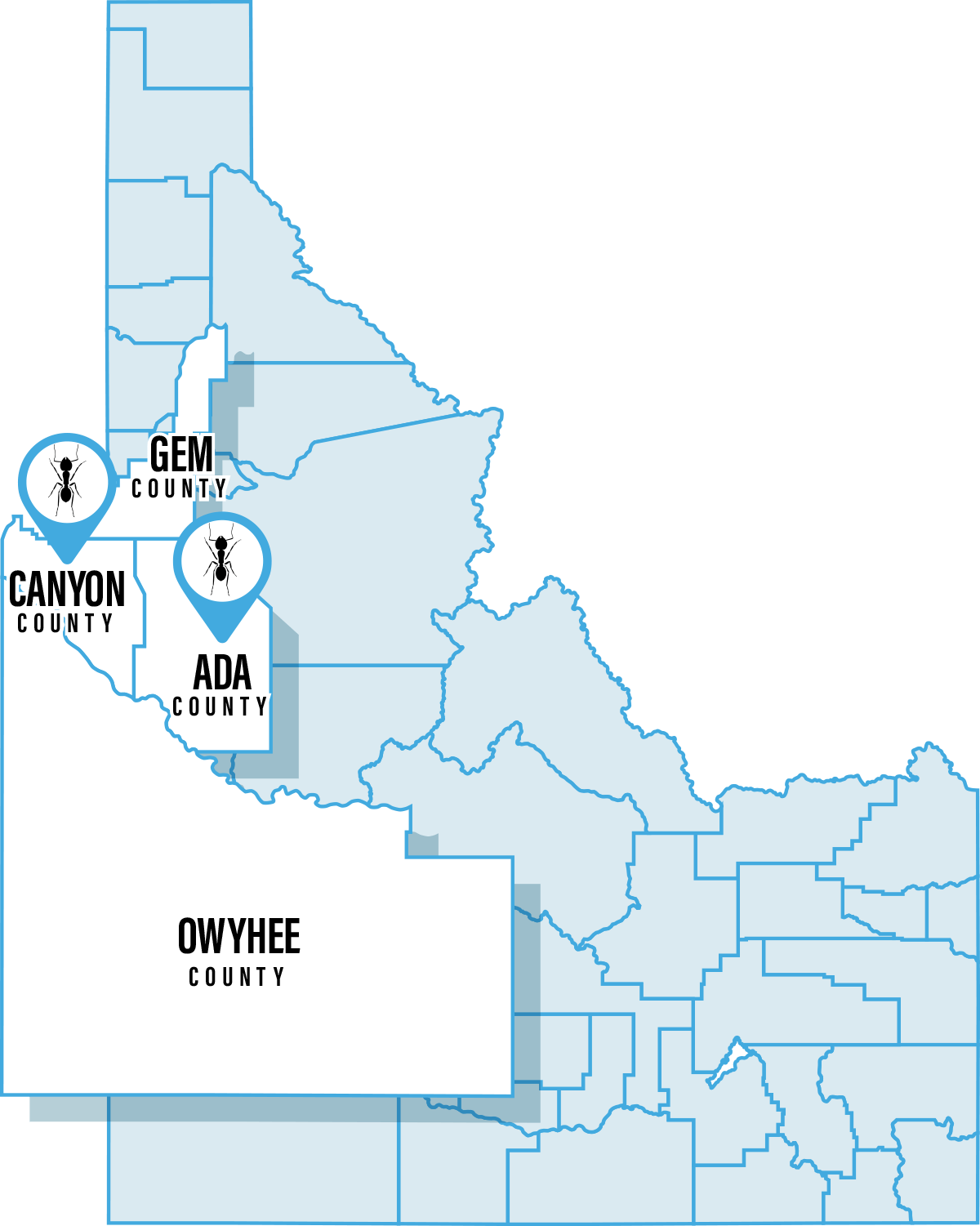 Long-Lasting Relief with Recurring Services
From the moment our Meridian exterminators step into your home, we want you to feel confident that you're dealing with an expert that you can trust. That's why our technicians aren't just there to eliminate bugs but to walk you through the process and ensure the safety of your family. Each of our local technicians brings years of experience into your home and provides comprehensive protection from a variety of pests, including:
Ants
Earwigs
Spiders
Roaches
Rodents
Wasps and stinging insects
And many more!
Affordable, Quality Pest Control Services
The best way to keep your home bug-free is with a recurring pest control package. At Affinity, our recurring plans start at just $39/ month and provide lasting protection from household bugs for as long as you need it. With multiple options available, there's one comfortably within your budget that will give you the best pest control in Boise at a price you can afford. 
Bed Bug Treatment in Meridian
Bed bugs are small and seemingly harmless but can negatively affect your quality of life more than just about any household insect. After all, these critters keep you up at night. Their rapid breeding cycle facilitates fast population growth, so the moment you notice the signs of their activity in your home, let us know right away. Time is crucial when treating bed bugs, so don't waste a moment before seeking professional treatments. 
At Affinity, we take getting rid of bed bugs in your home seriously. Other companies promise quick fixes and magic bullets. We pledge only that our treatment will work, no matter what. Our bed bug exterminators will subject all affected areas of your home with guaranteed results for 3 months. We'd rather take the time to get it right for you than leave you vulnerable to a recurring infestation.
When you partner with Affinity for bed bug control in Meridian, you can expect:
A free inspection to determine the severity of the infestation.
Complete elimination of all bed bugs in your home in 1-2 treatments. 
Family-friendly products that ensure the safety of your family.
Flexible service options.
And more!
Mosquito Control in Meridian
From their itching bites to their incessant buzzing, to the diseases they can carry, mosquitoes seem as if they were designed to bother us. These insects are some of the most potent spreaders of disease on Earth. Keeping their populations down isn't just a way to make your yard more comfortable—it's essential to maintaining community health and limiting the spread of the West Nile Virus, Malaria, Zika, Eastern Equine Encephalitis, and more. 
You aren't alone in this ongoing battle, though. At Affinity, our treatments will keep mosquito populations in and around your yard low, allowing you to safely enjoy being outside again. Get rid of mosquitoes and protect your loved ones with our comprehensive outdoor mosquito control services.
Our outdoor mosquito control in Meridian includes:
Knowledgeable and reliable mosquito exterminators.
An inspection of your yard to determine the insects populations and other risk factors.
A treatment plan built to meet your needs.
Flexible servicing to work with your schedule. 
Follow-up inspections to make sure the bugs are gone.
Tick control that's included with a recurring service plan. 
And more!
Rodent Control in Meridian
Not only does sharing your home with rats and mice make you uncomfortable, but they're also known to carry fleas, spread numerous diseases, and are suspected of being responsible for up to 25% of house fires in the US each year! Keep your home free of these potentially dangerous pests with our rodent control and get rid of rats and mice for good. 
At Affinity, you can feel confident that we'll provide complete rodent removal with dependable and up-to-date methods, including:
A top-to-bottom home inspection by one of our rodent exterminators to determine how they are getting inside.
Strategic placement of traps by our local team.
Ongoing in-home treatment if you need it.
Protection against rodent-borne diseases like Hantavirus, Typhus, and Plague.
Open and reassuring communication from start to finish.
And so much more!
Ant Control in Meridian
Ants may be small, but they quickly become overwhelming due to their large numbers. Trying to treat them on your own with messy sprays and ineffective traps only adds to your frustration instead of solving your ant problem. For relief, you can count on, choose our ant control services. Our fast-acting solutions target ants at their source to get rid of them properly, once and for all.
When you partner with us for ant control services, we will:
Inspect your home to determine the extent of the infestation and where ants are active.
Identify the species of ant present to ensure we use the most effective treatment.
Use advanced techniques to quickly eliminate ants without being disruptive.
Block off entry points that ants are using, preventing them from returning.
Get rid of ants for good!
Termite Control in Meridian
Worried about a run-in with termites? There's no need to stress out when you have termite removal experts at your fingertips. Facing an infestation can be intimidating, but Affinity Pest Control has all of the tools to take on any project, big or small. An Affinity termite exterminator is highly-trained and eager to return your home back to its original form.
When you choose Affinity for termite treatment, you'll get:
A thorough termite inspection of your entire home.
Treatments that either prevent a future infestation or combat existing pests.
Effective treatment methods with your safety in mind. 
Top-notch technology.
100% satisfaction, guaranteed!
We Take Pride in our Reputation
How our community views us is important. We take pride in being a reliable, and trusted termite control company in Meridian. Every day, we aim to build and nourish relationships with our community, because your well-being matters to us. We love that our customers have fantastic things to say about our services, and we're confident that you will feel the same when you work with us. Wait no longer to take action against pests, and partner up with a termite exterminator that receives numerous reviews from happy customers.