Trusted Pest Management In Parma, ID
What kind of problem are you having? Select all that apply.
Pest Control in Parma
Welcome to Affinity Pest Control, your trusted local pest control company in Parma, Idaho. We understand that it takes a lot of trust to let someone take care of your home, which is why we take our responsibility seriously. Backed by our 20 years of experience in the pest industry, we have the knowledge and expertise to tackle any pest problem you may have.
Here are the pest control services we offer in Parma:
Residential Pest Control: Our technicians are highly trained in managing pests in residential homes and use safe, family-friendly treatments to ensure the well-being of your loved ones.
Commercial Pest Control: Don't let bugs disrupt your business operations. Our commercial pest control services are tailored to meet your establishment's unique needs. We work efficiently to create a pest-free environment for your employees and customers.
Rodent Control: Rodents can cause extensive damage to your property and pose health risks. Our team specializes in effective rodent control methods that not only eliminate the current infestation but also prevent future ones.
Termite Control: Termites can silently destroy the structural integrity of your property. Our comprehensive termite control solutions include inspections, treatments, and prevention strategies to safeguard your investment.
Bed Bug Control: Bed bugs are unwanted guests that can disrupt your sleep and leave itchy bites. Our bed bug control services are designed to target these persistent pests and provide you with a peaceful night's sleep once again.
And More: We offer a range of other pest control services, including ant control, bee and wasp removal, spider control, and mosquito treatments. Whatever pest problem you're facing, we have the expertise to solve it.
Now is the time to take control of your pest problems in Parma. Contact us today for a free consultation and let us be your trusted partner in pest control.
Image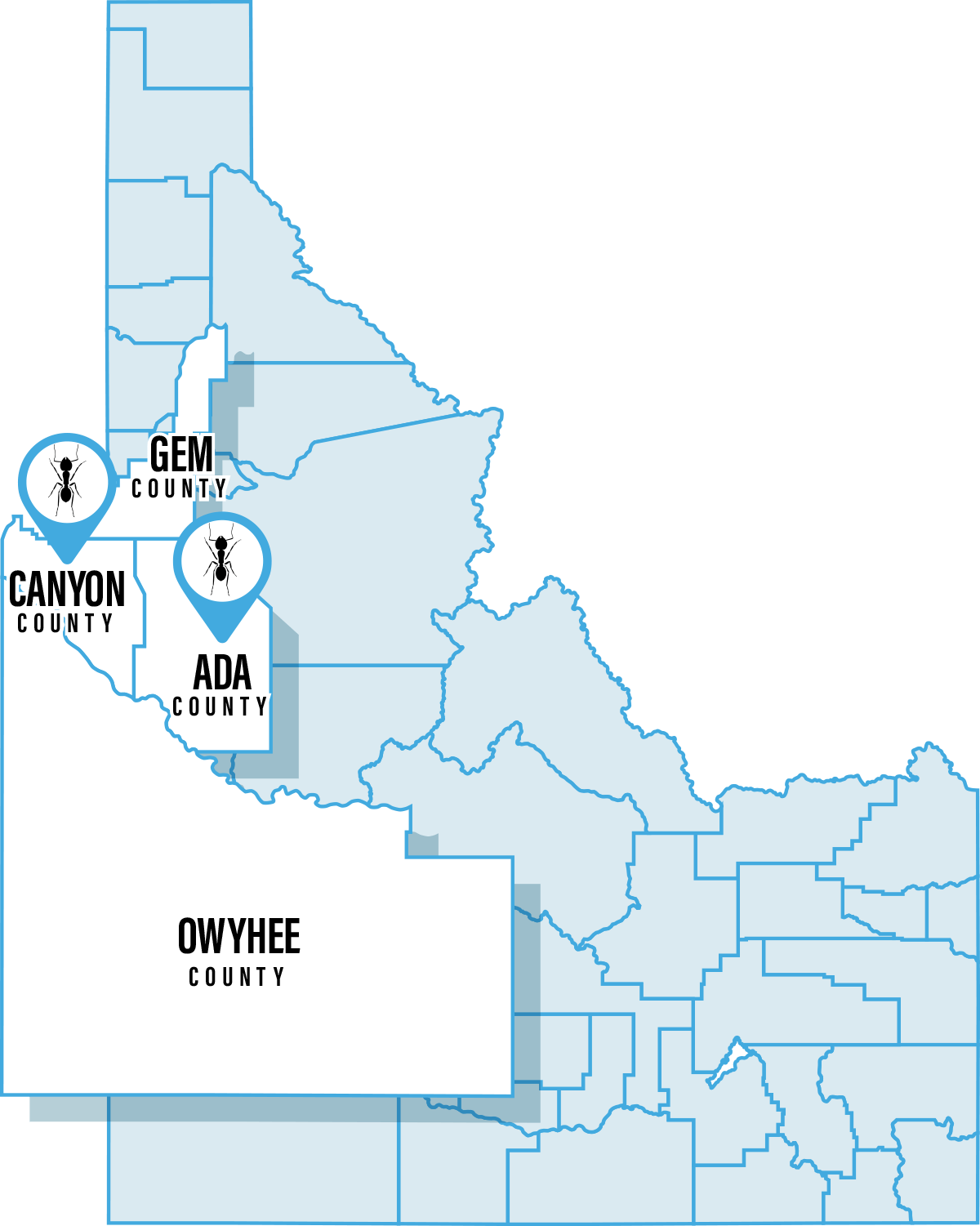 Bed Bug Treatment in Parma
When bed bugs invade your home, you need them gone fast. That's why we offer same-day inspections. Don't wait another sleepless night worrying about those nasty critters. Call us today and get a thorough inspection right away. Here's what makes us the best bed bug exterminator in Parma:
Affordable prices: Quality bed bug control shouldn't break the bank. We offer competitive prices and various discounts to make our services accessible to everyone.
Expert exterminators: Our team of local experts knows how to get rid of bed bugs for good. They will work tirelessly to ensure that not a single critter is left behind.
Family-friendly bed bug treatments: We care about your family's safety. Our treatments are designed to be effective against bed bugs while being safe for your loved ones, including pets.
Flexible service options: We understand that every situation is unique. That's why we offer flexible service options to fit your schedule and budget.
100% satisfaction guarantee: We stand behind our services. If those creepy crawlies return between scheduled treatments, we will retreat your property at no additional cost.
Call us today and experience the relief of a bed-bug-free home. Rest easy knowing that our professional bed bug exterminators have got you covered.
Mosquito & Tick Control in Parma
Are you tired of being constantly bothered by pesky mosquitoes and ticks? Look no further! Affinity Pest Control offers top-notch mosquito control in Parma to help you reclaim your outdoor spaces and keep your family safe from mosquito-borne diseases. Our comprehensive mosquito and tick service includes:
Thorough inspection: Our expert technicians will assess the extent of your mosquito and tick infestation and provide you with a personalized treatment plan.
Targeted sprays: We use state-of-the-art sprays that specifically target mosquito and tick populations in your yard, effectively reducing their numbers.
Mosquito prevention: Our team will identify and address potential breeding areas to prevent future mosquito infestations. Say goodbye to those itchy mosquito bites!
Tick prevention: We'll implement measures to control ticks and protect your loved ones and pets from these dangerous parasites.
Follow-up service: We won't leave you hanging! Our technicians will conduct regular inspections and provide ongoing treatments to ensure long-lasting mosquito and tick control.
Don't let mosquitoes and ticks ruin your time outdoors. Trust Affinity Pest Control for effective mosquito control and tick prevention. Contact us today for your free inspection and take the first step towards reclaiming your outdoor spaces. Your family's safety is our priority.
Rodent Control in Parma
With over 20 years of experience working in the pest control industry in Parma, we have established a reputation for quality service. Our trusted exterminators are knowledgeable and continually kept up to date and trained on the latest advancements and rodent control treatment methods. When you are faced with a rat infestation or rodent problem in your home, you want quick, reliable service you can trust. Affinity Pest Control is your answer to professional, discreet, and personalized care. We can help you get rid of mice and rats permanently. Our rodent control services include:
A thorough inspection of your home looking for all signs of a rodent infestation.
Bait traps to manage large infestations of rodents without risking the safety of your family or pets.
Utilization of excluders to fill minor gaps and holes. 
On-time, reliable service from experienced and dedicated staff.
Expert advice and recommendations for additional repairs
Ongoing service and follow-up visits as needed.  
Same-day and Saturday services offered.
Our guarantee!
Rodents can carry harmful diseases and dangerous bacteria. Protect your family and loved ones today with the help of the professionals at Affinity Pest Control.
Termite Control in Parma
Are termites destroying your home from the inside out? Don't wait another day to take action! Our termite control service in Parma is here to provide fast and effective solutions. Here's what you can expect when you partner with us:
Local Termite Exterminators: Our team of experienced technicians are not only experts in termite control, but they are also your neighbors. We understand the unique challenges that Parma's climate presents and we know exactly how to address them.
Ongoing Termite Control and Prevention: Our goal is to not only get rid of termites in your home but to keep them from coming back. We offer comprehensive termite inspections to identify any signs of infestation and create a custom treatment plan tailored to your home's needs.
Termidor, the Ultimate Weapon: We rely on Termidor, the most effective termiticide on the market. Unlike other products, it doesn't repel termites but is undetectable to them. This means termites continue to carry and spread the treatment throughout the entire colony, wiping them out for good.
Same-Day Service and Convenient Appointments: We understand that termite infestations require immediate attention. That's why we offer same-day service, ensuring you never have to wait for relief. And if that's not enough, we even have Saturday appointments available to fit your busy schedule.
Peace of Mind: As a locally-owned company, we prioritize your safety and satisfaction above all else. When you choose us, we treat your home like it's our own, providing you with the best termite treatments possible.
Don't let termites destroy your home any longer. Take action today and say goodbye to these destructive pests for good. Contact our termite exterminators in Parma and experience the difference we can make with our advanced and ongoing termite control services.
Ant Control in Parma
At Affinity Pest Control, we understand the importance of trust when it comes to taking care of your home. That's why we prioritize providing the best ant control services in Parma, Idaho. We constantly update our approach to eliminating ants, using state-of-the-art products and tools to ensure safe and quality service every time.
Now, let's talk about our ant control service. Ants can be a pesky problem, and we're here to help you get rid of them for good. Here are the features of our service:
Proven Techniques: Our ant control methods have been tried and tested to ensure the successful elimination of ants from your property.
Fast-acting Treatment: Our solution targets these critters at their source. So we ensure to get rid of them properly, once and for all.
Custom treatment plan: We curate a plan that suits your situation and takes your unique needs into consideration.
Prevention Advice: We'll provide you with valuable advice on how to prevent future ant infestations, so you can enjoy a pest-free home.
Safe for Pets: Our ant control treatments are safe for your furry friends, giving you peace of mind.
With our 100% satisfaction guarantee, you can have peace of mind knowing that we stand behind our services. We are confident in our ability to get rid of ants and create a pest-free environment for you and your family. Say goodbye to ants and hello to a home that is safe and conducive to making memories. Contact us today to get started on your ant control.