Reliable Pest Solutions In Notus, ID
What kind of problem are you having? Select all that apply.
Pest Control in Notus
Get fast and effective pest relief in Notus from the experts at Affinity Pest Control. Plus, when you contact us today, we'll give you $100 off your initial fee.
Here at Affinity Pest Control, we have the experience and drive to get you the results you deserve. Don't waste any more time with DIY pest treatments that eat up your hard-earned money and time. Instead, partner with your local exterminators to get rid of pests, and make sure they stay gone for the long haul. You don't have to settle for mediocre results when you have a team who prioritizes the health of you and your family. 
When you choose us for pest control, you'll: 
Work with highly-skilled, results-driven local exterminators.
Get comprehensive home inspections to determine the best course of treatment.
Get a unique treatment plan tailored to your needs.
Receive follow-up visits to ensure the longevity of your results.
Have the option of flexible appointments that fit your schedule.
And more!
Image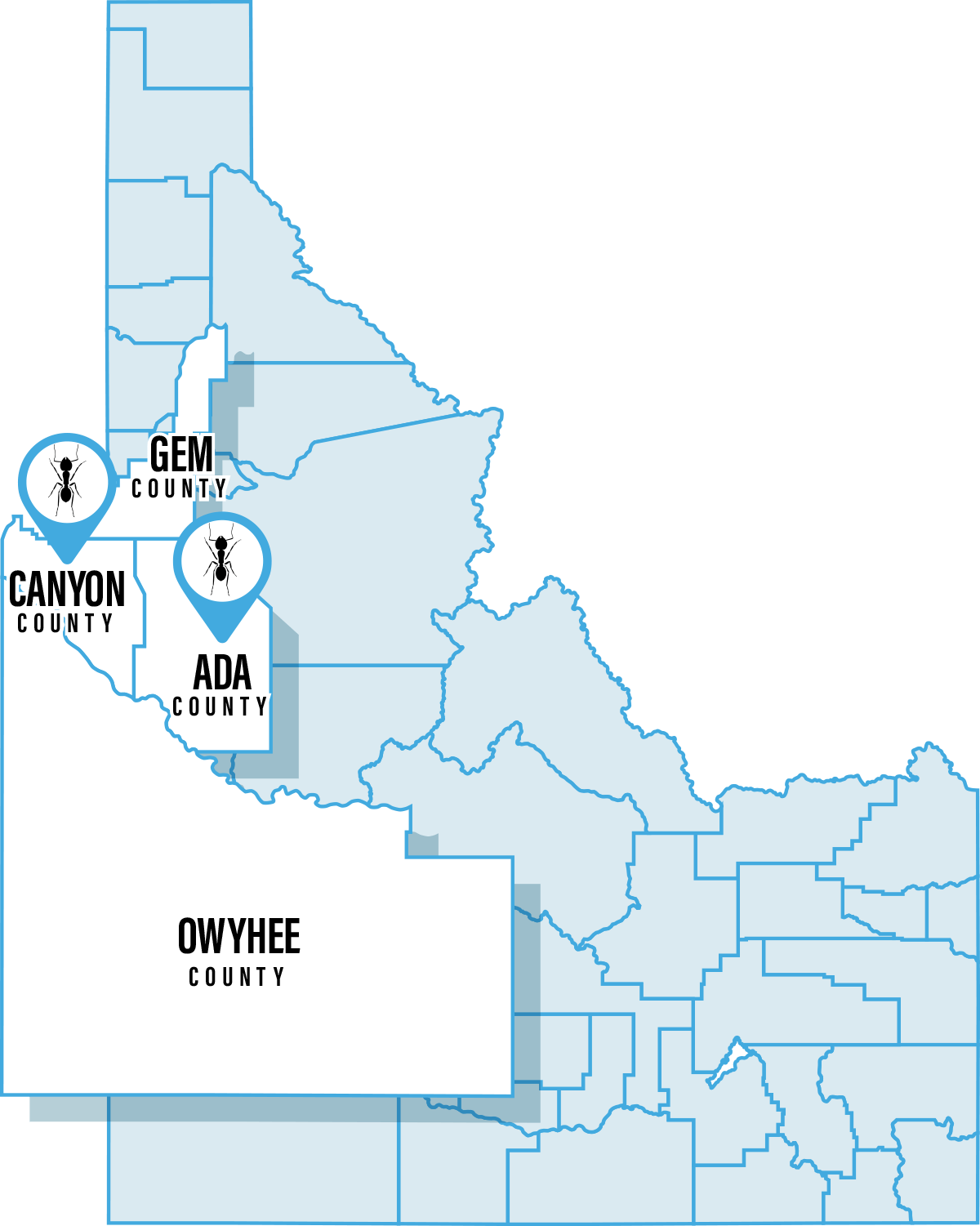 Mosquito Control in Notus
Have you ever longed for a relaxing outdoor experience? That want seems impossible once mosquitoes take over your space. The good news is that you don't have to deal with the frustration any longer. When you have an expert mosquito exterminator on your side, you'll never have to take on the task again. You can finally sit back, relax, and watch the magic happen while we get rid of mosquitoes for good.
Our mosquito control in Notus includes:
The help and expertise of a knowledgeable team.
A thorough home inspection to investigate all problem areas.
Planned mosquito treatments that are tailored to your unique needs.
Follow-up visits to ensure mosquitoes stay away for good.
And more!
We Treat Your Family as Our Own
At Affinity Pest Control, your family is our family, and we have a mission to keep them safe. Our services target irritating pests that spread disease, such as West Nile Virus, Zika Virus, and Malaria. We know how important your loved ones are to you, so we work extra hard to make sure mosquitoes are a problem of the past. With over 20 years in business, you can always count on us to serve you with honesty, integrity, and dedication. So what are you waiting for?
Termite Control in Notus
Discover the most effective termite control service in Notus, provided by our trusted and local team of termite exterminators. With our comprehensive termite inspections, ongoing monitoring, and prevention strategies, you can say goodbye to termites for good. Here's what sets our services apart:
Comprehensive inspections: We meticulously inspect your home for signs of termite damage, such as crumbling wood or hollow structures. Our experts design a customized treatment plan based on the severity of the infestation and your home's specific needs.
Termidor Treatment: Our termite exterminators rely on Termidor, a proven and highly effective termiticide. It eliminates entire termite colonies by ingestion and contact, ensuring thorough eradication.
We get rid of termites for good: Our termite control service goes beyond just removing existing infestations. We create a protective barrier around your home to prevent future termite problems, giving you long-lasting peace of mind.
Ongoing control and prevention: We don't stop at eliminating current termite infestations. Our team offers ongoing control and prevention strategies to ensure your home remains termite-free in the long run.
Flexible scheduling: We understand how busy life can be, which is why we offer flexible treatment times. Whether you need same-day service or prefer a Saturday appointment, we'll work with you to find a time that works best for you.
Locally-owned: As residents of Notus, we understand the unique climate and conditions that create a need for ongoing termite control. Trust our expertise to address your termite problems effectively.
Trust our experienced and dedicated team to provide the most effective and reliable termite control service in Notus. Say goodbye to termites and safeguard your home with our expert solutions. Contact us today to schedule your comprehensive termite inspection.
Rodent Control in Notus
Are you tired of dealing with rodent infestations in Notus? Look no further than our professional rodent control service. We offer a comprehensive approach that will eliminate those pesky rats and mice and prevent them from coming back. Here are the key features of our rodent service in Notus:
Free Rodent Inspection: Our skilled technicians will conduct a thorough inspection of your premises, checking for droppings, gnaw marks, rub marks, sightings, and hot spots. This allows us to assess the extent of the infestation and identify the best treatment options.
Exterior Baiting: We will strategically place bait traps around the exterior of your property to lure and eliminate rats and mice. Our baiting techniques are highly effective in targeting these unwanted pests.
Interior Trapping: To ensure a comprehensive approach, we will set up traps inside your property to catch any rodents that may have found their way indoors. Our technicians will expertly handle the trapping process to safely remove these intruders.
Rodent Exclusion: Our services go beyond extermination. We will perform minor exclusion work such as using steel wool and external bait stations. We'll also seal up any accessible entry points, including pipes and vent holes, to prevent future infestations.
Ongoing Prevention: We believe in long-term solutions, which is why we offer ongoing maintenance programs to keep your property rodent-free. Our technicians will regularly check for any signs of re-infestation and take necessary steps to prevent it.
Don't let your issue grow larger and more troublesome. Contact us today for a free quote and take the first step towards a rodent-free environment. Our experienced team at Affinity Pest Control LLC is ready to provide exceptional rodent removal services in Notus, Idaho, and help you get rid of those unwanted rats and mice for good.
Ant Control in Notus
Are you tired of dealing with ants invading your home in Notus, ID? Look no further! Our team of professional ant exterminators is here to provide you with top-notch ant control services. With our comprehensive inspection, we will:
Identify the species of ants and determine how they are entering your home.
Create a custom treatment plan tailored to your unique needs.
Offer a free quote so you know exactly what to expect from us.
Use our proven techniques to completely remove all ants the first time!
Say goodbye to ant infestations and hello to an ant-free home with our same-day service. We are the best in the business when it comes to ant control in Notus. Don't wait any longer, contact us today and get rid of those annoying ants once and for all!
Bed Bug Treatment in Notus
When you discover bed bugs in your home, the last thing you want is to wait for an exterminator. At Affinity Pest Control, we understand the urgency, which is why we offer same-day service and Saturday appointments in Notus. Don't lose sleep over bed bugs any longer - call us today and reclaim your peace of mind.
Our bed bug control service in Notus is designed to completely eliminate bed bugs and ensure a restful night's sleep.
With our thorough inspection, we determine the severity of your infestation and create a personalized treatment plan.
Our family-friendly treatments are safe for your loved ones and pets, minimizing disruption to your daily routine.
We back our services with a 100% satisfaction guarantee and offer flexible service options to accommodate your schedule!
Choose Affinity Pest Control for your bed bug extermination needs in Notus and experience the difference. Our team of expert exterminators will work tirelessly to get rid of bed bugs for good! 
Five Quick Tips To Keep Dangerous Cockroaches Out Of Your Notus Home
Cockroaches are unsanitary pests that are known to pick up bacteria, parasitic worms, and other microorganisms in dirty spaces. When they get into your home, they have the potential to make you sick.
These five tips will not only help you keep cockroaches out of your home, but they'll also help to reduce the health risks associated with cockroaches:
Keep garbage protected in covered receptacles. Clean your receptacles to remove odors that can attract roaches from a distance and store receptacles away from exterior doors.
Stay on top of cleaning up any dog waste in your yard.
If you have compost, make sure it is properly mixed.
Keep the interior of your home as clean as possible. If cockroaches can't find an ideal environment in your home, they may not wish to stay.
Another way to make the environment in your home unwelcoming to cockroaches is to repair plumbing issues and install dehumidifiers where necessary.
Why Spiders Enter Notus Homes & How To Keep Them Out
When spiders create webs in your home, they hatch eggs near your home. As you have more spiders crawling around on your exterior, there is more of a chance that spiders will get inside. The most important reason you have spiders in your home is that you have lots of spiders near the outside of your home. The second reason is that you have entry points.
Here are a few tips to address both of these factors:
Remove webs to deter spiders and remove spider sacs.
Replace exterior white lights with yellow lights to reduce the insects spiders eat.
Reduce moisture that attracts the bugs spiders eat, as well as the spiders themselves.
Remove organic debris such as leaves, sticks, and stacked wood. Spiders find food in organic debris.
Protect your trash and keep receptacles clean to reduce the many pests that spiders may prey upon.
Seal your exterior to keep spiders from getting inside.
If you take these steps, you may be able to make interior spider sightings a thing of the past. When more control is needed, contact Affinity Pest Control for year-round pest control service.  
The Affinity Guarantee
As your reliable local pest control company in Notus, we are confident we provide value in our services. We treat your home in a way that is safe, efficient, and effective because we prioritize your well-being. And because we care, we make sure to be there at a time that is convenient for you. We offer Saturday and same-day appointments so that we can work around your busy schedule. At the end of the day, your satisfaction is most important to us, and we won't stop until you're 100% happy with your results. If pest issues arise again, we're happy to make it right with a complimentary re-service! 
When you sign up for our standard pest program, we're giving you $100 off the initial fee. Today is the day to be pest free– give us a call!