Get $100 Off Pest Control in Melba
What kind of problem are you having? Select all that apply.
Pest Control in Melba
Professional pest control doesn't have to break the bank. If you're tired of DIY methods that yield poor results, give us a call! Our team of local experts will not only provide exceptional services but help you save on your first treatment!
Are pests giving you problems? We have solutions. Affinity Pest Control's knowledgeable technicians and reliable care help you get rid of pests for good. We're local, veteran-owned, and licensed by the state, so you can trust we'll do the job how you want it done. And to keep you and your family safe, we offer family-friendly pest control in Melba.
Our treatments include protection against:
Bed bugs
Ants
Earwigs
Stinging insects
Fleas and ticks
Mosquitoes 
Termites
Roaches
Rodents
And more!
Image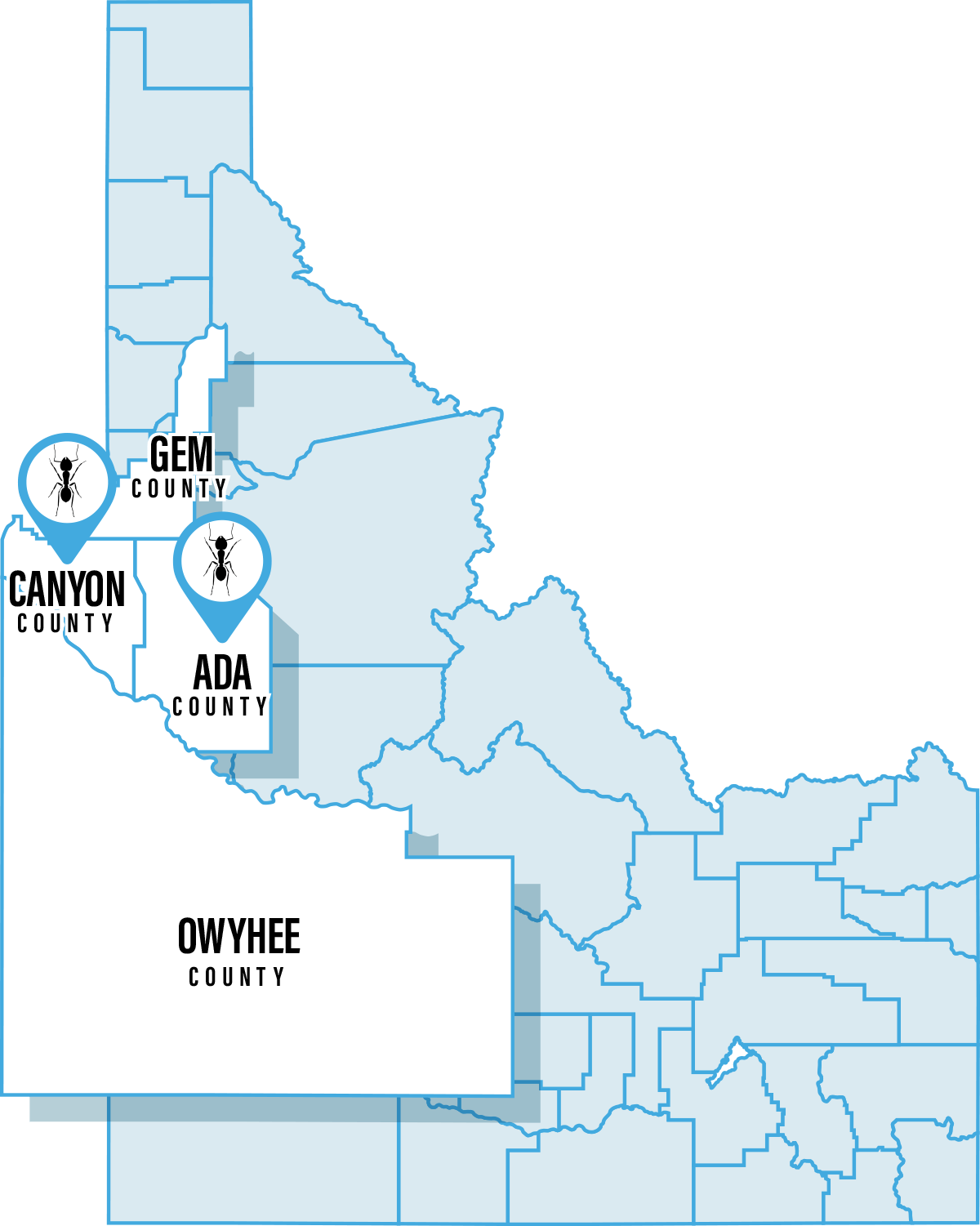 Trust Our Expert Exterminators
Along with a state certification for all our exterminators, our new techs train under experienced exterminators so they can tap years of knowledge before they begin leading treatments on their own. Our techs not only know their stuff—they are happy to share their knowledge and pro tips with you throughout the pest control process.
When you choose to partner with Affinity, you can expect:
An actual person answers the phone—no phone tree or out-of-state call center to deal with! 
We take the time to learn about your specific needs and customize our approach to meet them.
We give you a free quote.
A certified exterminator will conduct a pest inspection at no charge, either the same day or the next day (even if that's a Saturday).
We treat your home or business, whether that's a one-time treatment with a 30-day guarantee, or regularly for subscribers.
If pests persist, we re-treat at no additional cost. 
Whatever services you choose, our courteous and professional team will make sure you're satisfied with the results. Just give us a call at 208-607-3898!
Mosquito Control in Melba
Mosquitoes can easily ruin your time outside with their annoying buzzing and itchy bites. Store-bought solutions like bug sprays and citronella candles temporarily repel mosquitoes but don't target the insects at their source, so they'll keep coming back. For relief that lasts, you need professional mosquito control in Melba.
When you partner with Affinity, our exterminators will:
Inspect your property to find mosquito breeding areas and hiding places.
Customize treatment based on our findings and any concerns you may have.
Use safe, effective products to eliminate both mosquitoes and ticks.
Return for regular treatments to make sure mosquitoes don't come back.
Bed Bug Treatment in Melba
A bed bug infestation can happen to anyone and also happens very quickly. These insects spread throughout your home, hiding under your mattress, in carpeting, between sofa cushions, behind outlet covers, and anywhere else you can think of. This makes it impossible to eliminate bed bugs on your own, but luckily, you don't have to! Our bed bug exterminators will take care of the hard work for you, finding and treating the entire infestation. You'll be able to sleep soundly in no time!
Our bed bug treatment in Melba includes:
A free inspection to determine the severity of the infestation.
Minimally-invasive treatments that are safe for your family.
Complete elimination guaranteed for 3 months.
Our 100% satisfaction guarantee, which includes free re-treatment if needed.
Save $100 On Your Treatment
We think that everyone should be able to fill complete peace of mind in their own home. This is why we offer a discount on our bed bug treatments to ensure that everyone is able to afford our effective treatments.
Rodent Control in Melba
Rats and mice contaminate your food, spread diseases like Hantavirus and salmonella, and increase your risk of a house fire by chewing on electrical wires. With all those risks and more, it's safe to say that you don't want these vermin in your home! That's where our rodent control treatments come in. Whether you already have a mouse or rat infestation or want to prevent one from ever occurring, our exterminators have you covered.
When you partner with us for rodent control in Melba, we will:
Inspect your home to find where rodents are hiding and the entry points they're using.
Strategically place traps in high-activity areas that are away from your family.
Schedule follow-up appointments to ensure rodents are gone for good.
Same-Day Service
You want those pests gone—asap! That's why we offer same-day servicing if you call before noon. This allows us to get in, get a better understanding of the situation, and come up with the best solution for your home and family. Contact us now to schedule your visit!
Termite Control in Melba
Don't let termites take over your home and cause costly damage. Our vertern-and-locally-owned termite control company in Melba is here to help. With our comprehensive services, you can trust that your home will be protected and free from these destructive pests. Here's what our termite treatment includes:
Ongoing Termite Control: Melba's climate creates the perfect environment for termites to thrive. Our team understands the unique challenges of this region and provides ongoing control measures to ensure your home remains termite-free.
Comprehensive Termite Inspections: Our termite exterminators in Melba are trained to spot even the subtlest signs of termite activity. Through detailed inspections, we can identify the extent of the infestation and design a targeted treatment plan.
Termidor Treatment: We use Termidor, an effective termiticide that is undetectable to termites. This means that they will continue to forage through the treated soil and spread the product throughout the colony, ultimately eliminating the entire infestation.
Get Rid of Termites: Our goal is to completely eradicate termites from your property. With our Termidor treatment and ongoing control measures, you can be confident that your home will be termite-free for years to come.
Flexible Treatment Times: We understand that your schedule may be hectic. That's why we offer same-day service and Saturday appointments. We'll work with you to find a time that is convenient for you.
Local and Trusted: As a local pest control company, we understand the frustration and fear that comes with a termite infestation. We treat your home like our own and provide the best possible service every time.
Don't let termites damage your home. Contact our team today and experience the difference of our reliable and effective treatments. Protect your investment and ensure the safety of your family with our comprehensive termite service.