Fast Relief With Same-Day Treatment
What kind of problem are you having? Select all that apply.
Pest Control in Boise
When pests invade your home, it can become overwhelming fast. They cause discomfort and disrupt the peace of mind you deserve. Let the local experts keep your home and yard pest-free year-round with Affinity Pest Control.
At Affinity Pest Control, our locally-based exterminators excel at removing pests from your home and ensuring that they stay gone. Don't waste time with frustrating and expensive DIY solutions—these methods are typically ineffective and don't produce long-lasting results. Affinity provides comprehensive pest control solutions that eliminate the vermin and keeps them gone for good.
Our pest control in Boise includes:
Experienced and knowledgeable local pest exterminators.
Detail-oriented home inspections to determine where critters are hiding, how they're entering your home, and the extent of your infestation. 
Customized solutions that are personalized for your needs. 
Follow-up service and inspections to ensure pests never come back. 
Pest prevention education from local experts.
Flexible scheduling options for your convenience. 
And much more!
Image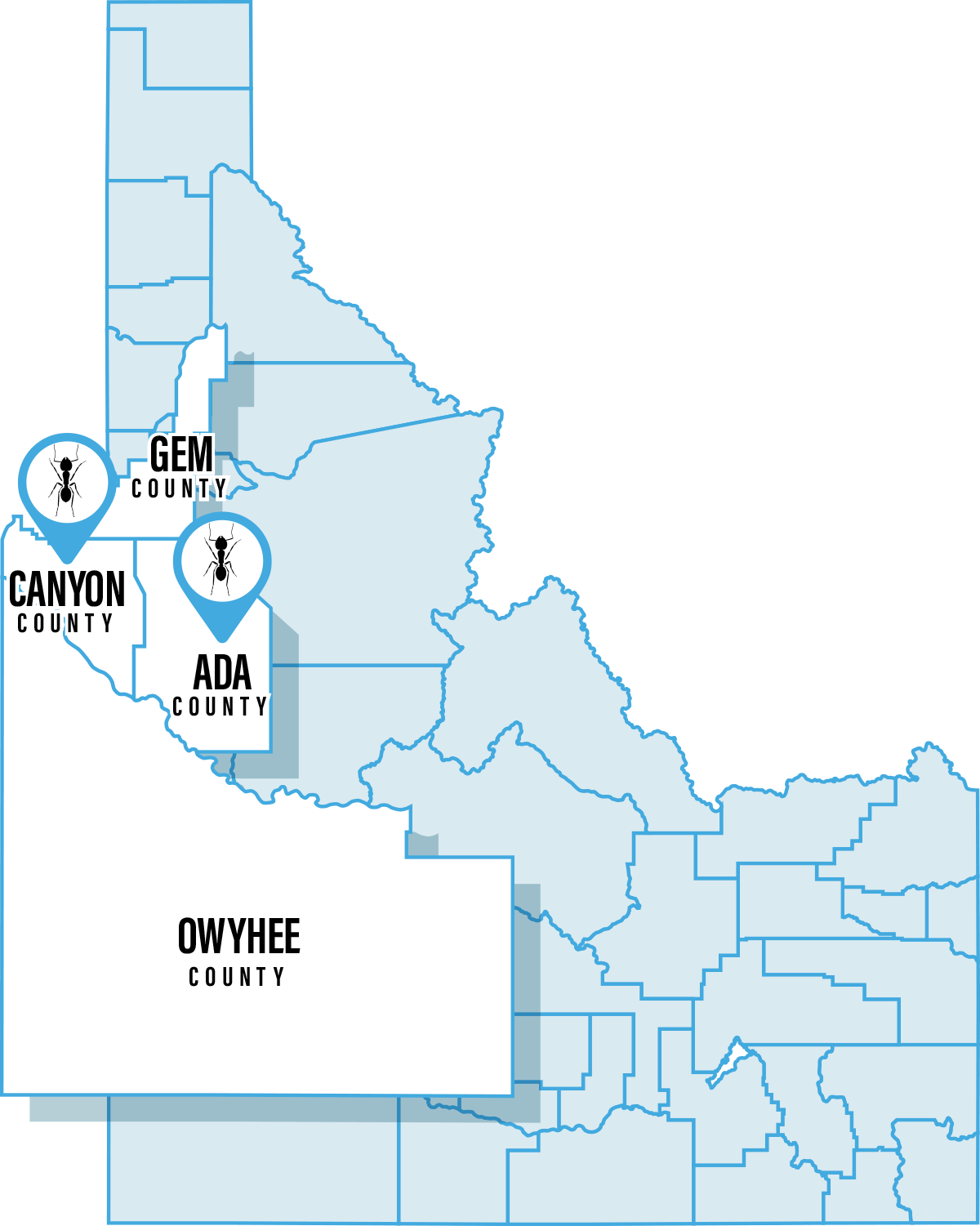 Get Lasting Relief from a Variety of Pests
Getting rid of pests in your home is only half the battle—it's just as important to keep them from coming back. At Affinity, our service is designed to give you long-lasting relief from household vermin. 
Our skilled team of exterminators provides long-term protection from:
Ants
Earwigs
Spiders
Roaches
Wasps and stinging insects
And many more!
Flexible Scheduling with Same-Day and Saturday Services
Pest control should work around you. That's why we offer same-day service when you call before noon. We also understand that you have a busy, unpredictable schedule, so we also offer Saturday appointments to make sure that you'll always be able to get the help you need.
Bed Bug Treatment in Boise
Bed bugs specialize in making restful sleep impossible, which simply can't be tolerated. Even a small population of these critters in your home can explode before you know it, so addressing them promptly is essential. As soon as you suspect their presence in your home, call the experts at Affinity. Our local bed bug exterminators will eliminate every last one and prevent them from returning. 
Our bed bug treatment in Boise offers the following: 
A free inspection to determine the best treatment.
Total elimination of all bed bugs in your home guaranteed for 3 months. 
Family-friendly treatments to ensure the safety of you and your loved ones.
100% guarantee—if bed bugs return, so will we.
And more!
​CALL TODAY TO SCHEDULE YOUR TREATMENT!
Signs of a Bed Bug Infestation
Bed bugs are small and sneaky. Fortunately, though, they leave behind some telltale signs of activity. Our experts have compiled a list of some of the signs of activity that include:
Small, itchy bites or red welts on your skin.
Rust-colored stains on the bedding.
An unpleasant, musty smell in an affected room.
Discarded skins and eggshells.
Mosquito Control in Boise
As beautiful as Idaho is, our mosquitoes here can be monstrous. These insects aren't only irritating, though—they can be dangerous! They can carry dangerous illnesses like West Nile Virus, Zika, and Malaria, so keeping their population under control is important. Our mosquito exterminators guarantee a reduction of the population to keep both your family and community safe. 
Our mosquito control in Boise includes:
Friendly and experienced exterminators.
A thorough inspection of your yard to examine hiding places, breeding grounds, and the extent of your infestation.
A customized mosquito control plan.
Flexible servicing options to accommodate your schedule. 
Follow-up inspections to make sure the insects don't come back.
Tick control included with recurring service. 
And more!
Rodent Control in Boise
If there's one variety of pests that every homeowner needs to be on the lookout for, it's rodents. Mice and rats are some of the smartest, most creative home invaders out there and can sneak indoors in any number of ways. Give your home the protection it deserves with the best rodent control in Boise. Our elite team of exterminators provides fast and long-lasting relief by:
Inspecting your entire home to discover where rodents are hiding and how they're getting in.
Strategically set traps in high-traffic areas.
Communicating thoroughly and openly with you during the entire process.
Offering recurring treatments if needed.
And more!
Protect Your Loved Ones From Disease
In addition to being some of the most difficult household pests to deal with, mice and rats are also among the most dangerous. This is due in large part to their ability to spread disease. Our local rodents are known to carry and transmit serious illnesses like Hantavirus, Rat Bite Fever, Typhus, Salmonella, and even Bubonic Plague! Protect those closest to you from harm today and book your inspection! 
Ant Control in Boise
If you've ever tried to get rid of ants that have found their way into your home, you know just how difficult it can be. Especially because DIY ant control runs the risk of splintering the colony into two or more, making it even harder to get rid of the infestation! When you get our team of professional ant exterminators on the job, you can be certain we will get rid of ants completely the first time.
Our ant removal process includes:
A thorough inspection to determine what species we're handling and how they may be entering your home.
A free quote so you know exactly what to expect from us.
A custom treatment plan that suits your situation and takes your unique needs into consideration.
Ant removal done the right way, the first time.
An ant-free home!
If you've found ants around your home or swarming in your pantry, we can help!
Owned and Operated by Local Veterans
We're a proud, local business that's owned and operated by veterans. As your neighbors, we are dedicated to providing the most efficient treatments that ensure the safety of you and your family while completely removing pests. When you choose to work with us, you can be sure that your money goes to support communities across Idaho, helping to keep local businesses strong.