Quality Pest Control with Same-Day Services
What kind of problem are you having? Select all that apply.
Pest Control in Garden City, ID
Don't let common household pests ruin your time with family and pets. With our same-day residential pest control in Garden City, we'll get rid of pests so you can have peace of mind. Our experienced exterminators will conduct a thorough pest inspection and create a customized general pest control plan tailored to your needs.
Our services protect against a variety of pests, including: 
Ants
Spiders
Cockroaches
Mosquitoes
Termites
Rodents
Ticks
Fleas
Bed bugs
And more! 
At Affinity Pest Control, we understand that your family's health is a top priority. Let us help you create a pest-free environment so you can enjoy your home to the fullest. Contact us today to learn more about our services.
Image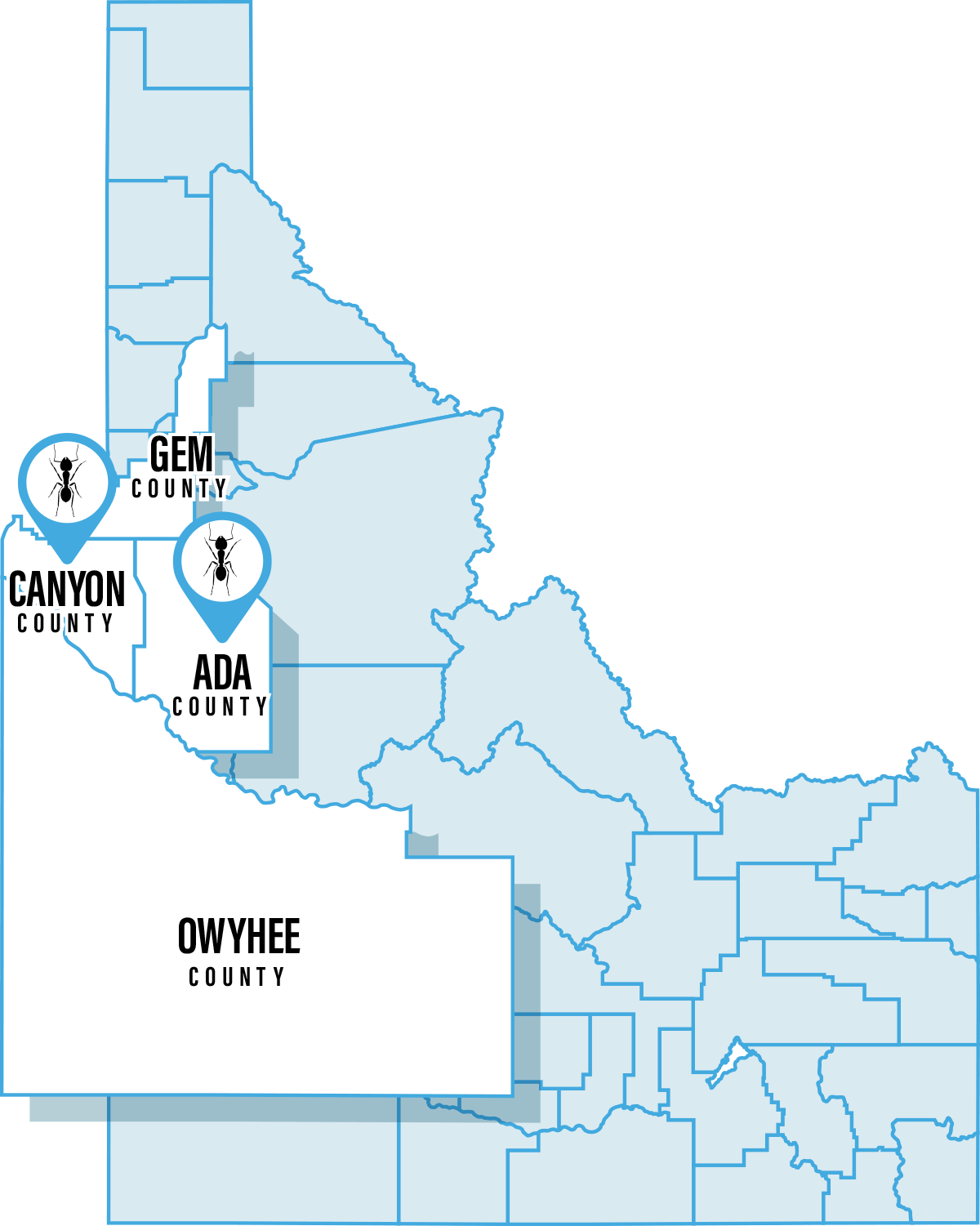 Family-Safe, Eco-Friendly Pest Treatments
Our exterminators are well-educated and experienced to remove whatever pests are bugging you. We provide recurring services year-round to keep pests gone for good.
We take pride in our work and have high standards of responsibility when we come to your home and provide you with service.  You can rest assured with Affinity knowing our exterminators use the safest and most effective methods of treatment. All the products we use are EPA-approved and kid and pet-friendly. Keeping you and your family safe is a top priority.
Mosquito Control in Garden City
Take back your outdoor spaces with our expert mosquito and tick control in Garden City. Our proven methods keep your family safe and your yard usable all year round. Here's what our mosquito control service includes:
A free inspection to assess mosquito and tick populations and risk factors
Targeted sprays to eliminate mosquitoes and ticks in problem areas
Personalized mosquito prevention plan tailored to your specific needs
Tick prevention to protect your family and pets from harmful bites
Flexible scheduling options to work around your busy lifestyle
Follow-up inspections and service to ensure mosquitoes and ticks stay away
At Affinity Pest Control, we understand how frustrating it can be to deal with mosquitoes and ticks. But with our local experts by your side, you don't have to suffer anymore. Let us help you reclaim your outdoor spaces and keep your loved ones safe from mosquito-borne illnesses like West Nile Virus and Zika Virus. Contact us today to schedule your free inspection.
Bed Bug Treatment in Garden City
Bed bugs are nasty creatures you shouldn't have to put up with. Aside from biting, they also pose a threat to your family and pets, as they can transfer diseases. That's why Affinity Pest Control offers thorough bed bug treatment in Garden City. Our trained bed bug exterminators are available for reliable, same-day service that ensures you don't have to spend another moment losing sleep!
Our bed bug treatment includes:
A FREE bed bug inspection to assess the severity and extent of your infestation.
Safe, reliable, and family-friendly bed bug removal with minimal disruption to your life.
Flexible service options to work around your busy schedule.
Guaranteed elimination of all active bed bugs in your home.
Long-lasting protection against future infestations. 
Our complete satisfaction guarantee and FREE re-treatments if bed bugs return. 
And much more! 
Rodent Control in Garden City
There's no such thing as a pest infestation that's "fun" to deal with, but as these things progress, a rodent infestation is particularly bad. These clever, destructive, and even dangerous pests are some of nature's worst home invaders and are notoriously difficult to eliminate on your own. But when you have dependable rodent control in Garden City, you can breathe easily again. Here at Affinity Pest Control, we offer Idaho's most reliable service and the industry's best mouse and rat exterminators. So when you need to take back your home, give us a call!
Our rodent control includes:
A full home inspection from a qualified, local expert. 
Flexible, personalized plans that adapt to your needs.
Available same-day service.
Follow-up visits.
And much more!
Dependable Protection from Rodent-Borne Disease
A rodent infestation, in addition to being an extreme inconvenience, can be dangerous and expose your loved ones to multiple dangerous illnesses. Across Idaho, mice and rats are known to carry Typhus, Hantavirus, Salmonella, and even Bubonic Plague! Keeping your home and loved ones safe is our top priority. Get the most reliable service around and let us give you a clean, rodent-free home. 
Termite Control in Garden City
Protect your home from the destructive power of termites with our expert termite control service in Garden City. As a veteran-and-locally-owned company, we understand the unique challenges of pest control in this area. Our team of highly skilled termite exterminators in Garden City can help you get rid of termites fast and keep them from coming back. Here's how:
Comprehensive Inspections: Our experienced technicians will carefully inspect your home for signs of termite damage. By identifying and addressing the problem early, we can help you avoid costly repairs and damage to your home's structure.
Ongoing Control and Prevention: Our treatment plan creates a protective barrier around your home to keep termites away. We'll also provide ongoing support to ensure your home remains termite-free.
Expertise: Our experts understand the unique challenges of Idaho and can provide customized solutions to keep your home safe.
With our termite control service in Garden City, you'll have peace of mind knowing your home is protected. Don't wait until it's too late, contact us today to schedule your appointment!