Homedale, ID Pest Control
What kind of problem are you having? Select all that apply.
Pest Control In Homedale, Idaho
Get quick relief with the best pest control in Homedale with help from Affinity Pest Control! Our experts will get rid of pests in your home and protect your family from future infestations.
Located in Owyhee County, Homedale, Idaho, is a small city best known for being a farming community. The city is full of natural terrain, which is the inspiration behind many community events. From rodeos and wine tastings to livestock auctions and community pageants, Homedale is a tight-knit community where neighbors helping neighbors isn't something you do; it's a standard that residents live by without hesitation.
At Affinity Pest Control, helping the residents of Homedale is what we eat, sleep, and breathe to do when it comes to safeguarding the community against destructive and disease-carrying pests. With over 20 years of experience in the industry, we're proud to be Owyhee County pest control experts. To schedule your residential or commercial pest control services, give our expert technicians a call.
Image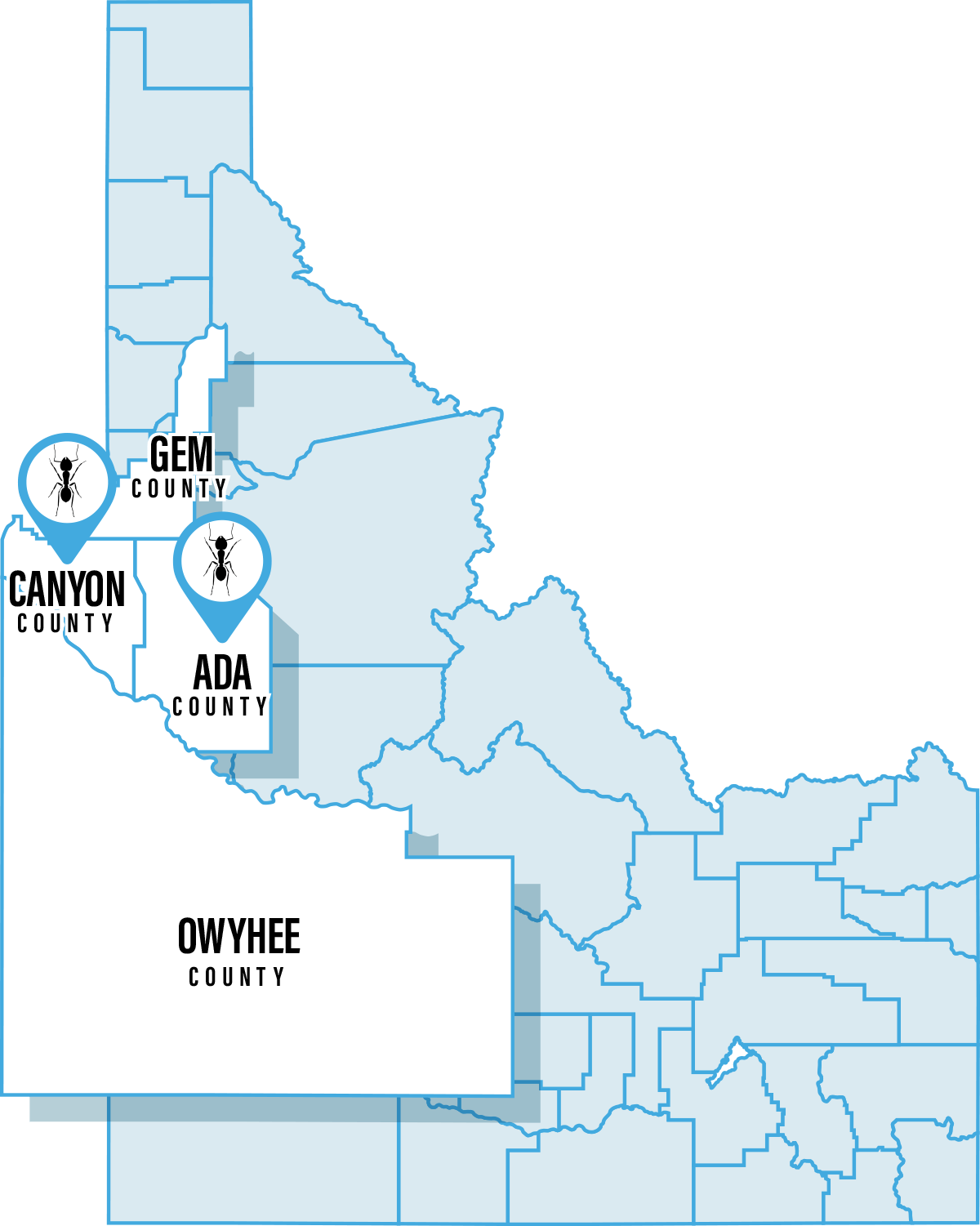 Residential Pest Control In Homedale
At Affinity Pest Control, we know that it's not enough to get rid of a pest problem in your home. It's vital to prevent future pests from entering your home and get the job done right and safely the first time. Protecting your home and family is a top priority for you, and it is equally a top priority for us. 
When you choose home pest control services with us, you can expect to receive a comprehensive approach that addresses the exterior and interior of your home. We utilize our Integrated Pest Management principles, and through this process, we eliminate your pest concerns today while preventing their return in the future. 
Upon our arrival, you can expect us to start with a thorough inspection of your home. We'll look for conducive conditions for pests to thrive in, high-traffic areas, and other signs of pest activity. Once we've performed our inspection, we partner with you and break down our findings to discuss what type of customized treatment your home needs. If you agree to our treatment recommendations, we'll tackle the interior and exterior of your home with the treatment options you consented to. 
At Affinity Pest Control, we treat your family as though it was our own family, refusing to settle for being second-best. This reason is why our team of technicians embrace ongoing education and the latest techniques and innovations within the pest control industry. Reach out to us to request a free quote and enjoy your pest-free home in no time.
Commercial Pest Control In Homedale
Running a business is a task in itself that doesn't leave much time to address any other additional business challenges that may come about, such as pest infestations.
As easy as leaving out baits and traps and pulling out cans of bug spray is, it doesn't get down to the root cause of your pest problem, and you can't ignore it. Damaging effects can occur, such as negative reviews and compromising the health and safety of your customers and employees, all while increasing the possibility of potentially a shutdown.
If the business you worked hard to build can be shut down instantly due to neglecting pest control services, commercial pest control services are well worth the investment.
The great news about Affinity Pest Control is that we provide customized, high-quality pest control services. We also offer these customized treatments at an affordable rate for your business. Just give us a call to get your commercial services started.
Rodent Control in Homedale
Experience the ultimate peace of mind with our comprehensive rodent control service in Homedale. Our highly trained technicians offer a range of effective solutions to rid your property of rats and mice, ensuring a rodent-free environment. Here's what our service includes:
A Rodent Inspection: Our experts will conduct a thorough inspection of your property to identify all signs of rodent activity and determine the best course of action.
Exterior Rodent Baiting: We strategically place bait traps around the exterior of your property to target rodents at their source and prevent them from entering your home or business.
Interior Trapping: For any rodents that have already made their way inside, we utilize safe and effective trapping methods to eliminate the infestation.
Rodent Exclusion: Our team will seal off all potential entry points, including pipes, vents, and gaps, to prevent future rodent invasions and ensure long-lasting protection.
With our expertise in rodent extermination, ongoing prevention, and exclusion techniques, you can finally say goodbye to these pesky critters. Trust us to get rid of rodents and create a rodent-free environment for you and your loved ones or your business. Contact us today for a free quote and take the first step towards a rodent-free future.
Ant Control in Homedale
Are you tired of dealing with ants in your Homedale home? Look no further! Our same-day residential ant control service in Homedale is here to save the day. We understand that ants are a common household pest that can be a major nuisance. That's why our experienced exterminators are ready to come to your rescue and get rid of those pesky ants once and for all.
When you choose our ant control service in Homedale, you can expect:
Same-day service to quickly eliminate the ant problem.
A thorough pest inspection to identify the root cause of the infestation.
Customized pest removal plan designed specifically for your home.
Follow-up services and inspections to ensure that ants stay gone for good.
Pest prevention education from our trusted experts to help you protect your home.
Flexible Ant Control Services in Homedale
Not only do we offer effective pest control, but we also believe in providing exceptional customer service. Our friendly exterminators will work around your busy schedule and provide flexible scheduling options. We want to make sure that getting rid of ants is easy on you. We even offer recurring pest control packages to meet any budget, ensuring that pesky ants never return.
Bed Bug Treatment in Homedale
Get rid of bed bugs quickly and effectively with our family-friendly treatments. No need to wait around for an exterminator - we offer available Saturday appointments and same-day service when you call before noon. Don't let bed bugs ruin your sleep any longer. Our bed bug control service in Homedale is designed to eliminate your infestation for good and restore your peace of mind.
Benefit from our experienced and professional bed bug exterminators in Homedale who will work tirelessly to ensure that not a single pest is left behind. We offer a free bed bug inspection to determine the severity of your infestation. Our team will then provide complete elimination of all bed bugs in your home through safe and family-friendly treatments. You can trust us to provide quality bed bug control at an affordable price.
Choose our exterminators and take advantage of our flexible service options. We understand that every situation is unique, so we offer customizable treatment plans to fit your specific needs. Our goal is to provide you with the most effective solution in the most efficient and convenient way possible.
Bed Bug Removal Guaranteed
Rest assured that our bed bug treatment is backed by a 100% satisfaction guarantee. If your problem returns between scheduled treatments, we will visit your property and retreat at no additional cost to you. We are committed to ensuring your complete satisfaction and will not stop until the problem is resolved.
Don't let bed bugs disrupt your life any longer. Call us today at and reclaim a restful night's sleep. Trust our bed bug exterminators in Homedale to get the job done right and eliminate bed bugs once and for all.