Homedale, ID Pest Control
What kind of problem are you having? Select all that apply.
Pest Control In Homedale, Idaho
Get quick relief with the best pest control in Homedale with help from Affinity Pest Control! Our experts will get rid of pests in your home and protect your family from future infestations.
Located in Owyhee County, Homedale, Idaho, is a small city best known for being a farming community. The city is full of natural terrain, which is the inspiration behind many community events. From rodeos and wine tastings to livestock auctions and community pageants, Homedale is a tight-knit community where neighbors helping neighbors isn't something you do; it's a standard that residents live by without hesitation.
At Affinity Pest Control, helping the residents of Homedale is what we eat, sleep, and breathe to do when it comes to safeguarding the community against destructive and disease-carrying pests. With over 20 years of experience in the industry, we're proud to be Owyhee County pest control experts. To schedule your residential or commercial pest control services, give our expert technicians a call.
Image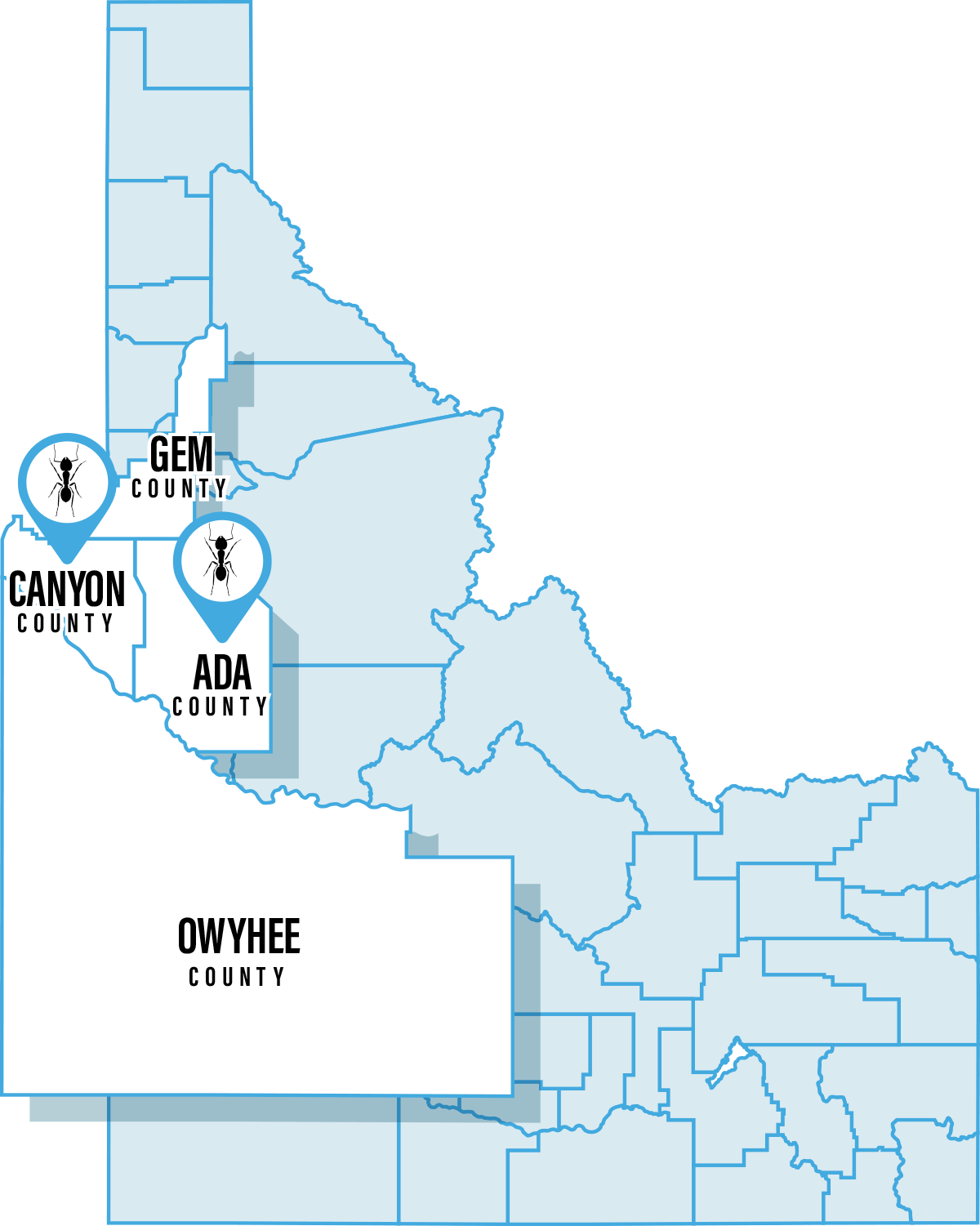 Residential Pest Control In Homedale
At Affinity Pest Control, we know that it's not enough to get rid of a pest problem in your home. It's vital to prevent future pests from entering your home and get the job done right and safely the first time. Protecting your home and family is a top priority for you, and it is equally a top priority for us. 
When you choose home pest control services with us, you can expect to receive a comprehensive approach that addresses the exterior and interior of your home. We utilize our Integrated Pest Management principles, and through this process, we eliminate your pest concerns today while preventing their return in the future. 
Upon our arrival, you can expect us to start with a thorough inspection of your home. We'll look for conducive conditions for pests to thrive in, high-traffic areas, and other signs of pest activity. Once we've performed our inspection, we partner with you and break down our findings to discuss what type of customized treatment your home needs. If you agree to our treatment recommendations, we'll tackle the interior and exterior of your home with the treatment options you consented to. 
At Affinity Pest Control, we treat your family as though it was our own family, refusing to settle for being second-best. This reason is why our team of technicians embrace ongoing education and the latest techniques and innovations within the pest control industry. Reach out to us to request a free quote and enjoy your pest-free home in no time.
Commercial Pest Control In Homedale
Running a business is a task in itself that doesn't leave much time to address any other additional business challenges that may come about, such as pest infestations.
As easy as leaving out baits and traps and pulling out cans of bug spray is, it doesn't get down to the root cause of your pest problem, and you can't ignore it. Damaging effects can occur, such as negative reviews and compromising the health and safety of your customers and employees, all while increasing the possibility of potentially a shutdown.
If the business you worked hard to build can be shut down instantly due to neglecting pest control services, commercial pest control services are well worth the investment.
The great news about Affinity Pest Control is that we provide customized, high-quality pest control services. We also offer these customized treatments at an affordable rate for your business. Just give us a call to get your commercial services started.
The Ultimate Guide In Making Your Homedale House Unattractive to Rodents
Depending on the types of pests you have no tolerance for, some would say that the rodents in Homedale are the most intolerable pests of the area, more so than insects. However, whether you're team insect or team rodents, neither belong in or around your home, especially rodents. 
Rodents are vectors of various diseases, including salmonella, leptospirosis, and tularemia. Additionally, they're carriers of fleas and ticks, also vectors of diseases. If you find yourself dealing with a rodent problem, the safest and most effective way to get rid of them is with professional rodent control services. 
At Affinity Pest Control, we offer comprehensive rodent control services to stop rodent infestations across multiple channels. With Integrated Pest Management (IPM) principles, we will eliminate your current rodent infestation while taking measures to prevent future rodent infestations from forming. Once we treat your home, you can then implement these rodent prevention tips to make your home less attractive to them:
Practice proper food storage
Add perimeter fencing around your home
Maintain effective trash management
Seal up all entry points
Maintain a clean yard free from yard debris
Keep outdoor food areas clean
Keep your grass cut low
Sweep and vacuum regularly
Eliminate water sources
By teaming up with Affinity Pest Control and implementing the above preventive measures, your home will be the last place rodents will want to call home.
An All-Inclusive Guide To Ant Control For Homedale Homeowners
Ants are some of the most invasive pests you will ever encounter, not because they're small but because they invade in numbers. Did you know a single ant colony can range from 1,000 to 100,000 ant colony members? That's a lot! Now, imagine having that large colony of ants in your home. 
Here in Homedale, you're likely going to see three specific species of ants, including the following:
Odorous House Ants: They emit a potent, rotten coconut-like odor when you crush these ants.
Pavement Ants: These ants invade in large numbers, making them extremely difficult to eliminate and prevent.
Carpenter Ants: This is a larger species of ants that are destructive to wood. These ants tunnel and nest inside of wood, and when they gain access to our homes, they can cause costly structural damage to the very wood holding our homes together.
Unfortunately, there is no 'quick fix' when attempting to eliminate ants on your own. Professional ant control services are the safest and most effective way to rid your home of ants. If an ant-free home is what you're looking for, call us at Affinity Pest Control, we get the job done right the first time. It's also important to note that once we've appropriately treated your home for ants, you can implement these preventive efforts to keep ants out of your home:
Deprive ants access to food in your pantry and kitchen by regularly washing dishes, removing trash from your home daily, routinely vacuuming, wiping down surfaces, and keeping the inside of cabinets clean.
Seal any openings or gaps in your home's foundation or exterior walls. 
Place weatherstripping around windows and doors and install door sweeps on all exterior doors. 
Repair or replace screens that are damaged or loose.
Eliminate forage opportunities in your yard by keeping lids on trash cans, eliminating food debris, regularly harvesting gardens, properly storing or disposing of uneaten pet food, and maintaining outdoor eating and cooking areas.
Together with our ant control services, these preventive measures will make your home the last place any ant colony will want to nest.