Same-Day Pest Control in Kuna
What kind of problem are you having? Select all that apply.
Pest Control in Kuna
A pest infestation can feel like an emergency, which is why our exterminators treat it like one. When you contact us before noon, one of our exterminators will visit your property before the end of the day. Additionally, we offer Saturday appointments to fit into your busy schedule. Start with a free quote today!
You don't need to battle the pests around your home alone. Searching for pest control near you doesn't have to be a hassle. We offer effective and safe pest control in Kuna that comes with the Affinity guarantee to eliminate your pest issue year-round!
We start our thorough inspections by checking the property for any possible areas that pests could be using to gain entry, as well as what could be attracting the pests; such as a pet food bowl or high moisture area. 
Once the inspection has been completed, we will then begin with a tailored treatment solution. Our exterminators in Kuna will follow the process of:
Initial Interior/Exterior Treatment 
Crack and Crevice Treatment to help prevent even the tiniest of pests from entering your home. 
Customer Education of Pest Prevention
Schedule follow-up services to maintain a pest-free home
If you're looking for an exterminator in Kuna, well done, you found us! We cover a large range of residential pests such as ants, bed bugs, beetles, cockroaches, earwigs, spiders, wasps, and rodents to name a few. 
Image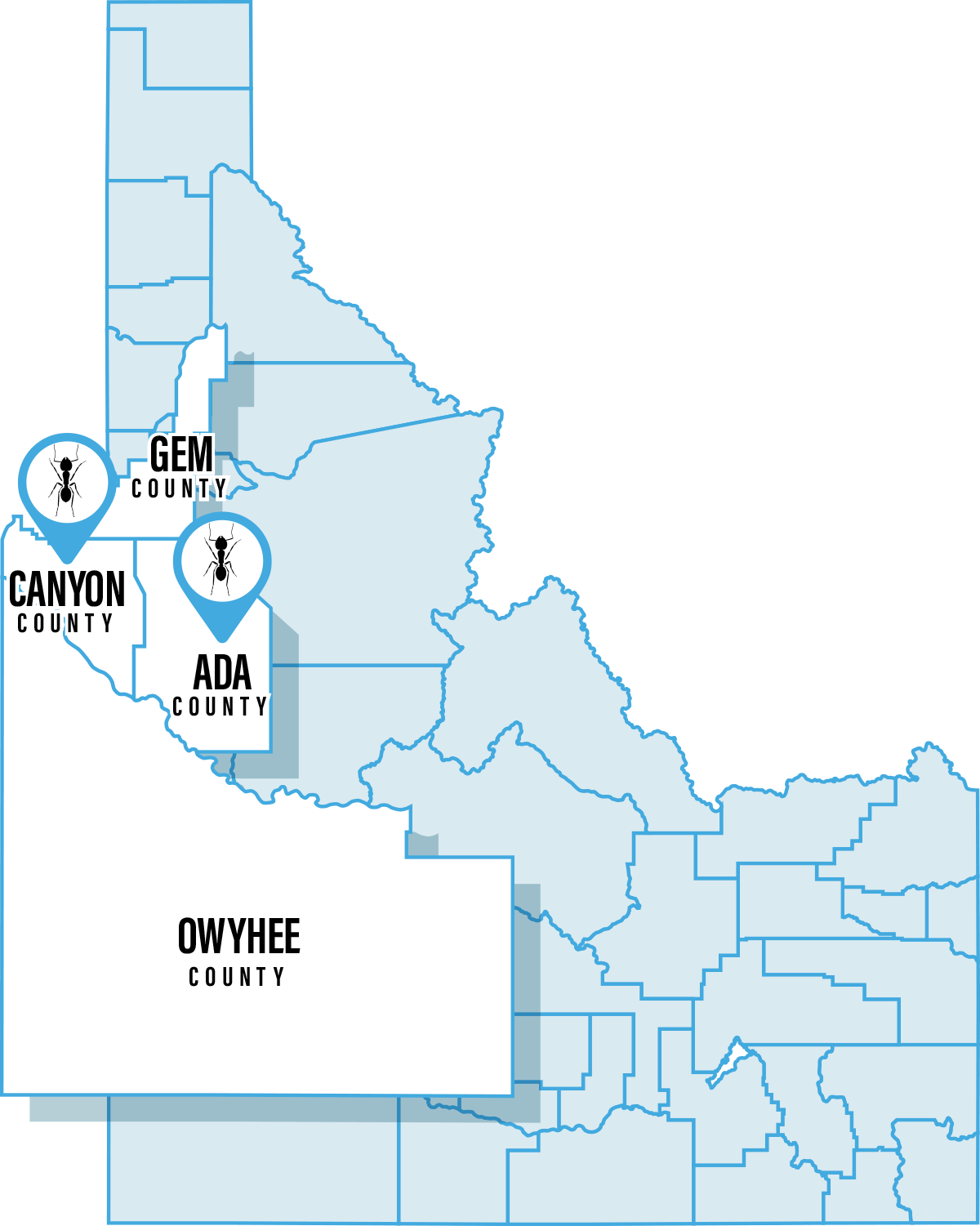 Family-Friendly Treatments
We understand the stress a pest infestation can cause, it certainly can take its toll on your family. You can rest assured with Affinity knowing the service products we use are EPA-approved and kid and pet-friendly. If you're looking for pest control near you, Affinity Pest Control will protect your home and family from unwanted pests. 
Our residential expert exterminators in Kuna truly are experts with the service and knowledge they provide. To win the battle against pests, call Affinity Pest Control today and ask about our same-day pest control options.
Long-Lasting Results with Preventative Care
Our preventative pest programs offer a way to keep your home pest-free while keeping your family and pets safe.  Our programs are specifically tailored to effectively treat common residential pests in Idaho.  We stay up-to-date on the latest and most effective methods in professional pest management. If you're battling ants, earwigs, spiders, rodents, or any other common residential pests our expert exterminators will configure the most effective and safest treatment plan. Residential pest control in Kuna doesn't have to be an endless battle.
Mosquito Control in Kuna
With Idaho's vicious mosquitoes, it pays to have a local pest control company on your side! At Affinity Pest Control, our mosquito control in Kuna has what it takes to make your yard both comfortable and safe. We'll help you maximize your outdoor spaces by reducing the mosquito population around your home. When our local mosquito exterminators go to work in your yard, you can feel confident that they'll get rid of mosquitoes for good! 
Our mosquito control includes:
A thorough, free inspection of your yard to identify where mosquitoes are breeding and what's attracting them to your property. 
A custom-designed mosquito control plan. 
Follow-up services to make sure you're happy with the results
A guaranteed reduction in the mosquito population in your yard.
And more!
Same-Day Services and Flexible Scheduling
You can't choose when mosquitoes show up. They get to come and go as they please so we keep our scheduling options open and flexible for your convenience. When you call us before noon, you're eligible for our same-day service. If you need weekend service, we offer Saturday appointments. Mosquitoes don't wait. Neither should you.
Bed Bug Treatment in Kuna
When you need bed bug treatment in Kuna, look to the local experts. We put in the extra effort to get the job done right. Our local bed bug exterminators will make sure that every last bed bug is gone for good, guaranteed for 3 months. Don't lose another moment's sleep and give us a call. 
Our bed bug treatment in Kuna includes:
A FREE inspection to identify where bed bugs are hiding and the extent of your infestation.
Family-friendly bed bug treatments to ensure your safety. 
Guaranteed elimination of all bed bugs in your home. If bed bugs return, one of our exterminators will retreat your property at no additional cost to you.
Signs of a Bed Bug Infestation
While bed bugs may be sneaky, there are a few tell-tale signs of their presence. Our exterminators will conduct a free inspection to identify where bed bugs are hiding to provide the most efficient treatment possible. If you suspect bed bugs are infesting your home, keep an eye out for these warning signs: 
An unexplained, musty odor that is released from their scent glands. 
Rusty, red stains on your sleeping clothes, pillowcases, and bed sheets. 
Eggshells or shed skin on the floor surrounding your beds and other places they might be hiding. 
Tiny, red bumps appear on your skin after sleeping. These can resemble mosquito bites. 
Our exterminators will not only completely remove bed bugs from your property, but they will help you prepare your home to prevent them in the future. If bed bugs return between scheduled visits, we'll return and retreat at no additional cost to you. 
Rodent Control
Of all the terrible pests that can invade your home, rodents might just be the worst. They're destructive, breed quickly, and are among the most clever and creative household pests you'll ever encounter. So when you need to get rid of these pests quickly and prevent them from coming back, you need reliable experts to get the job done right. Affinity Pest provides rodent control in Kuna and is exactly that and so much more! When it comes to mice and rats, an infestation can get out of control quickly, so let us know if you notice any of the following signs:
Scratching noises behind walls.
Grease stains on baseboards.
Rodent footprints in and around food prep areas. 
Gnaw marks on food packaging.
Strange pet behavior or unexplained injuries.
Unpleasant odors coming from out-of-the-way areas of your home.
Stay Safe From Rodent-Borne Diseases
More so than any other invasive pest, rodents are capable of making you and your loved ones sick. Left untreated, they can easily expose your family to dangerous diseases like Hantavirus, Typhus, Salmonella, and even Bubonic Plague! Don't entrust your family's well-being to anyone but the local experts and keep a rodent-free home that will last all year. 
Termite Control in Kuna
Termites aren't always easy to detect! These pests are small, hide underground or in mud tubes, and move quietly throughout your home. By the time you realize you have an infestation, they've likely already caused hundreds of dollars in damages. That might sound overwhelming, but our termite control in Kuna will get rid of termites and prevent them from coming back. It's easy to protect your home with the termite exterminators at Affinity Pest Control.
Our termite treatment includes:
A careful inspection from top to bottom to look for signs of termite damage.
Personalized treatment based on the severity and location of the infestation.
Termidor HE, a termiticide that's effective and undetectable to pests.
Free re-treatments if termites come back while you're partnered with us.