Get Fast Relief in Emmett With Same-Day Services
What kind of problem are you having? Select all that apply.
Pest Control in Emmett
Our qualified exterminators will take care of your current pest problem and stop future infestations from occurring. We offer effective and safe treatments that come with the Affinity guarantee to eliminate pests year-round!
proven pest control treatments that target:
Roaches 
Ants
Mosquitos
Ticks
Termites
Rodents
Spiders
And more!
But our focus isn't just on getting rid of the pests that are currently infesting your home—we want to make sure to keep them away for good! That's why our team of expert exterminators starts its thorough inspections by checking the property for any possible areas that pests could be using to gain entry, as well as what could be attracting them, such as a pet food bowl or high moisture area. 
Image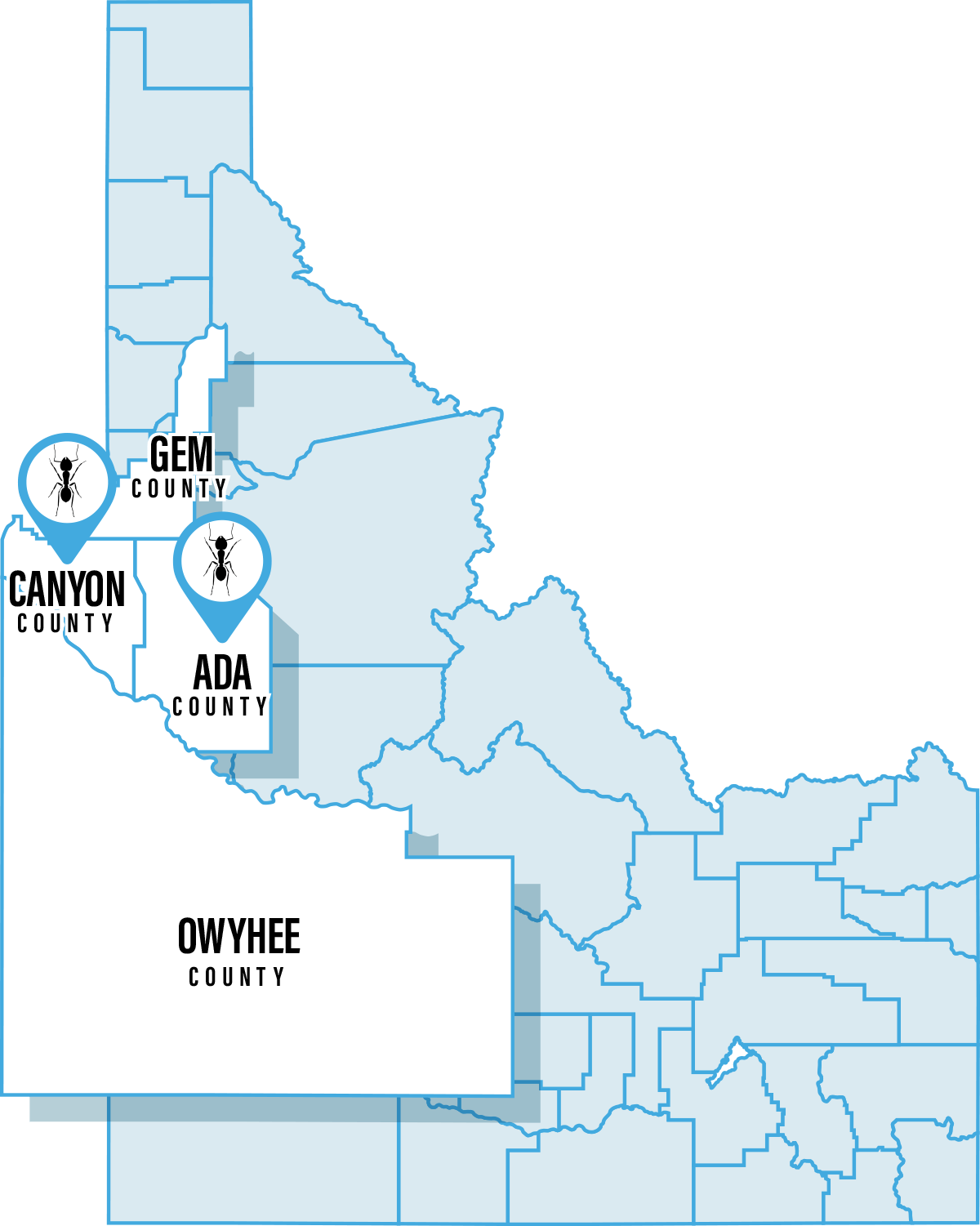 Our pest control in Emmett includes:
A thorough home inspection to determine your home's needs.
Customized treatment plans that are created for your situation. 
Recurring service packages that start at just $39/month. 
Follow-up services to ensure the critters stay away permanently. 
Pest prevention education from a friendly professional.
And much more!
We understand the stress an infestation can cause—it certainly can take its toll on your family. You can rest assured with Affinity knowing the service products we use are EPA-approved and kid and pet friendly. 
Saturday Hours and Same-Day Services
Our preventative programs offer a way to keep your home pest-free while keeping your family and pets safe. Our programs are specifically tailored to effectively treat common residential pests. Our exterminators stay up-to-date on the latest and most effective methods in professional pest management. We also offer same-day services and Saturday hours to work with your busy schedule. 
Bed Bug Treatment in Emmett
Everyone knows it's a bad idea to pick up hitchhikers, but sometimes we do just that without even realizing it. If you travel, host guests in your home, or purchase what you think is a piece of clean used furniture or clothing, the unintended result may be a bed bug infestation. Often the first signs are itchy welts on your skin or brownish streaks on your linens, sometimes accompanied by a musty smell.
Once you discover bed bugs in your home, you don't want to wait for relief, and with Affinity Pest Control, you won't have to. With Saturday appointments and same-day service, if you call before noon, we begin the process of bed bug removal to restore your peace of mind.
Affordable, Reliable Bed Bug Removal
Despite their name, bed bugs don't just confine themselves to your bedroom. In addition to infesting your mattress and box springs, they also hide behind baseboards, inside furniture, and even behind wallpaper! Why risk losing time and money on commercial bed bug sprays that yield only partial results? Affinity Pest Control's service guarantees the complete removal of bed bugs in 3 to 4 family-friendly treatments.
Here's what you can expect when you partner with Affinity for bed bug treatment in Emmett:
A free, thorough inspection of your home to identify the presence of bed bugs and level of infestation.
Total elimination of bed bugs from your home over 3 to 4 minimally invasive visits by our qualified bed bug exterminator.
Follow-up visits at no cost to you if you see any sign of bed bugs after treatments.
Our 100% satisfaction guarantee.
Mosquito Control in Emmett
Nothing ruins outdoor activities like a cloud of buzzing, biting mosquitoes. In warm weather, it can be hard to control mosquitoes. Even when there's not a lot of standing rainwater, these blood-sucking insects can still breed in places holding small amounts of water, such as:
Birdbaths
Old tires
Flowerpots
Pet food or water bowls
And more! 
With 20 years of experience, Affinity Pest Control has the knowledge and tools to solve your mosquito problem, and with our same-day servicing, we can help you reclaim your yard in time for your next outdoor activity. We also make sure that our services are very affordable, which is why we offer $35 off your mosquito treatment!
LEARN MORE ABOUT HOW YOU CAN SAVE!
Protect Your Family from Mosquito-Borne Illnesses
Mosquitoes are more than a nuisance. These voracious feeders transmit serious illnesses including the West Nile and Zika viruses, malaria, and encephalitis to your family and pets. Why take chances with sprays and foul-smelling candles that only keep mosquitoes at bay in a small area? Affinity not only tackles the mosquitoes you see, but the ones waiting to emerge into dangerous swarms. 
Here's what you can expect when you partner with Affinity for mosquito control in Emmett:
A thorough inspection of your property to determine where mosquitoes are breeding and hiding.
A customized treatment plan to protect your family.
Convenient servicing options and quality customer service.
Follow-up inspections if needed.
Rodent Control in Emmett
You might think that you can only have a rodent infestation in the kitchen, but mice and rats are capable of sneaking into even the smallest crevices, overtaking even the cleanest homes, infesting attics, basements, and anything in between. Getting a rodent problem under control can be a struggle—but not with Affinity Pest Control. Our expert team of local exterminators is skilled in the latest removal methods, only using treatments that are safe for you and your family. 
Our rodent control services include:
A thorough inspection indicating where rats and mice are hiding and how they gained access to the home.
Setting traps in areas with high foot traffic.
Open communication with you, so you're aware of the process from start to finish.
Recurring treatments as needed until the rodents are gone completely. 
And more!
GET QUALITY RODENT CONTROL TODAY
Protect Your Family From Disease
Mice and rats are not only capable of causing destruction to your home but can also endanger the health of your family. Rodents carry numerous amounts of diseases, from Typhus and Salmonella to even the Bubonic Plague. Keep your loved ones protected from disease by contacting us. Our team of expert technicians will be there to service your home and make it safe again! 
Termite Control in Emmett
Don't let termites eat away at your home in Emmett! Our locally-owned termite exterminator service offers same-day treatment using the proven effectiveness of Termidor. But we don't just get rid of termites - we offer ongoing control and prevention with comprehensive inspections tailored to your home. Here's how we can help protect your home:
Comprehensive termite inspections.
Same-day termite control service using Termidor HE, an undetectable and effective termiticide.
Ongoing termite control and prevention to keep your home safe year-round.
Trust us with your home and family. We understand how frustrating and scary termites can be. With our dedicated expertise and locally-owned assurance, you'll never have to face them alone. Plus, with our flexible scheduling including Saturday appointments, we'll never be too busy for you. Don't let termites take a bite out of your life - contact us for the best termite control today!